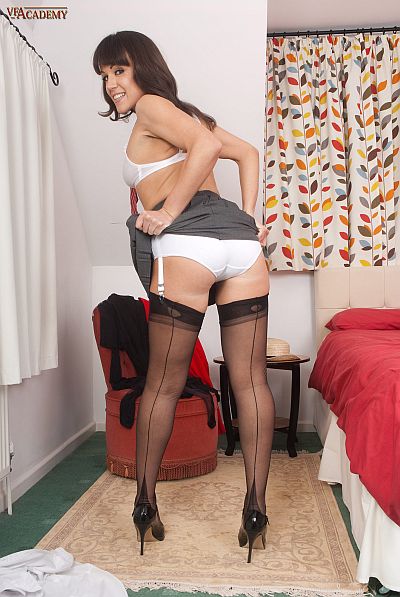 Lucy was in her bedroom feeling a bit lonely, when our horny janitor paid her a visit. She welcomed his company by suggesting he drop his pants and show her his big cock, as she had heard so much about it from the other girls, she wanted to see for herself.
'I've noticed you eying me up and know you want to do all sorts of naughty things to me,' Lucy said, drawing her hand up her legs in their black, nylon stockings and teasing up her skirt to uncover her suspenders. 'Well now is your chance,' she whispered invitingly, opening her legs and rubbing her hand over the crotch of her white cotton panties.
Lucy suggested he should play with himself while she stripped out of her uniform. Removing her white shirt and bra, she then stood to bend over while she undid her skirt and let it fall down to the floor to pool around her patent leather heels. She then teasingly rolled her cotton panties down her seamed stockinged and stepping out of them she climbed back on the bed.
Lying back with her legs apart, she spread the pink lips of her pussy and rubbed her clit, while she encouraged the janitor to wank his cock faster and shoot his cum over her pussy and ass. Then slipping several fingers into her tight, moist hole, her breath came in short gasps as she openly masturbated and reached an intense climax.
Get our superb Vintage Flash newsletter each week - all the latest model info, updates, set preview pics and more!