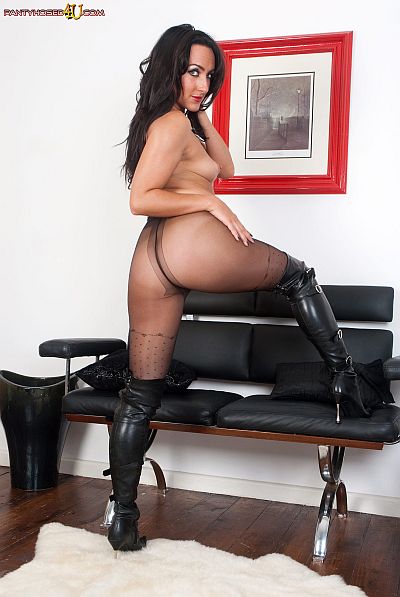 Chloe was feeling very horny in her leather and nylon outfit and suggested I get on my knees while she performed a very special pantyhose tease. 'I want you to lick my nylon pantyhose, right up to my nice, juicy pussy,' Chloe said, pointing to the area of her thigh just above the top of her thigh-high, leather boots
Chloe rubbed her finger over the groove of her pantyhosed cunt which was sheathed in sheer nylon hose, then traced it along the black seam that ran up from her crotch. Turning around she gave a view of her pert ass cheeks and thighs encased in a layer of tight, delicious black nylon and reached under her crotch to pleasure her nyloned cunt.
'That's it you wank that cock nice and hard', Chloe said, sitting with her pantyhose legs parted, rubbing the compressed lips of her pussy through the tight nylon screen. She then knelt on the seat and invitingly thrust her hips and ass to and fro in front of me, grabbing her buttocks and touching her damp pussy through the gusset of her tights.
Turning around to face me, she grabbed her pantyhose and stretched them upwards so the sheer black nylon pulled tight between the lips of her pussy to form a cameltoe. 'That feels so horny against my clit,' she said, continually tugging on the taut nylon and rubbing her finger into the cleft of her snatch. 'You can give my cameltoe a nice little lick,' she suggested, as she bumped and ground her pantyhosed pussy and ass right in front of my face.
Chloe then tore at the crotch of her hose and ripped a wide hole in the gusset, and spreading her legs wide apart she inserted two fingers up her juicy snatch. Her fingers squelched as she thrust them vigorously up her lubricated fuck hole, and rubbing the hot flesh of her throbbing clitoris she orgasmed hard and loud in her torn pantyhose.
Get our superb Vintage Flash newsletter each week - all the latest model info, updates, set preview pics and more!