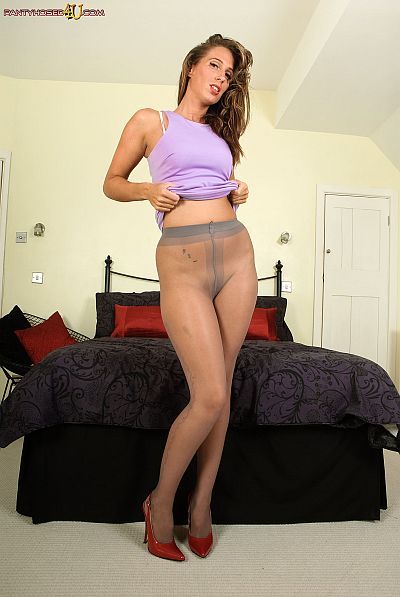 Tammy and I had been out for the evening to an expensive restaurant, and she'd dressed in a sexy tight fitting dress and expensive fashion pantyhose for the occasion. I later discovered that she wasn't wearing any panties under her dress, and by the time we arrived home we were both in the mood for some sexy fun in the bedroom, rather than just chillin' out on the sofa.
'I recall you whispering in my ear about how gorgeous I looked in my pantyhose, and how naughty I was for not having any knickers underneath,' she reminded me, sitting on the end of the bed and stroking the length of her pantyhosed legs as she decided what her next move might be.
'I also remember you saying, that you liked my ass in this dress,' she said, now standing and leaning over to let the dress ride up and give me a quick flash of her nyloned buttocks. 'Now, I want you to unzip your trousers, take out your cock and stare at my ass while I tease you in my pantyhose.'
Tammy took off her dress and standing before me she slipped her hands down the front of her pantyhose. I got in close as she spread the lips of her dripping wet pussy with her fingers and showed me the pink behind the mesh of her sheer nylon tights.
Tammy then lay face down on the bed and pushing her hands down the rear of her pantyhose she slipped her fingers into the lubricated slit of her juicy cunt. I watched her hand move behind the tight nylon screen as she continued to masturbate, grinding her pantyhosed hips so her fingers went deeper inside her hot, throbbing cunt.
'I bet you'd like to spunk right there, wouldn't you,' she said, moving her hips lasciviously whilst pulling the crotch of her pantyhose tight against the glistening wet lips of her pantyhosed cunt. 'I'd love you to come over my arse in these pantyhose and spill your warm load of cum all over my nyloned pussy!'
Get our superb Vintage Flash newsletter each week - all the latest model info, updates, set preview pics and more!