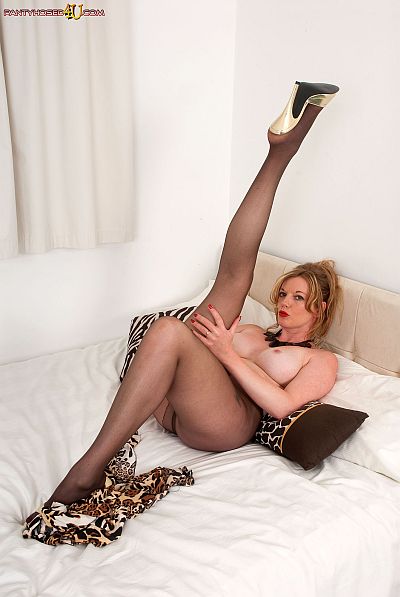 'I'm sure by the look of me you can tell I'm feeling rather wild today,' Holly said, lifting up the slinky animal print dress she was wearing to give me a view of her pussy and legs encased in tight, sheer pantyhose.
Holly's animal instincts were running wild, no doubt inspired by the sexy attire she was wearing, and she made it obvious she was feeling decidedly horny as she sprawled catlike on the bed in her pantyhose and gold, sling-back heels.
Pulling the front of her dress downwards she uncovered her fully rounded tits, and squeezing them together she suggested I 'give her something to feed on', meaning my cock of course, and put it in the fold of her cleavage.
Kneeling on the bed, she slipped her dress over the cheeks of her pantyhosed ass and gave her 'tail' and wiggle, making sure I got a good view of her swaying buttocks sheathed in sheer black nylon. Holly then lay back with her pantyhose legs wide open and felt up her pussy through the sheer nylon crotch of her tights.
Pressing the front seam of her hose against the lips of her cunt, she teased the flesh of her hot clitoris with her fingers through the tight nylon screen stretched over it. Her cunt flushed pink as she continued to rub the lips of her gaping pussy through the nylon mesh, and bucking her hips Holly reached her first pantyhose climax of the evening.
Get our superb Vintage Flash newsletter each week - all the latest model info, updates, set preview pics and more!