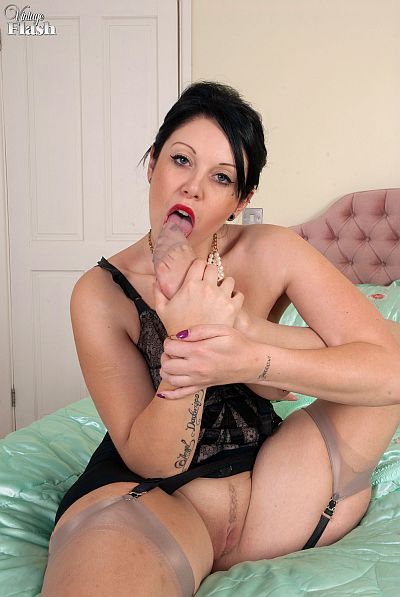 Shay is ready to entertain you dressed in frilly sheer gown, vintage corselette, sheer RHT nylons and patent leather heels in her latest video at Vintage Flash.
Shay parted the folds of her diaphanous gown and revealed she was wearing a figure hugging corselette girdle with satin suspenders holding her sheer nylon stockings firmly in place.
'It holds me in, in all the right places,' Shay said, smoothing her hands down the side panels of her satin girdle, then sliding them over the curves of her wide feminine hips.
'How do you like my sexy stockings and my patent black leather heels,' she said, leaning slightly to touch her ankles, then drawing her hands up the length of her stockinged legs to the tops of her shiny nylons, and up the front of her lacy corselette.
Shay's metal clasped suspenders pulled tightly at the tops of her stockings, stretching the welt as she bent forwards to give a rear view. She slowly ran her hands up the back of her nyloned legs and moved them upwards to feel the firmness of her perfectly girdled ass.
Laying on the bed she dangled her heels, and then slipped them off to rub the soles of her nyloned feet and toes, making sure to give some close up views.
Shay then opened the lips of her fat pussy, then sliding a pink vibrator up her tight cunt, she masturbated to orgasm in her girdle and nylon stockings.
Get our superb Vintage Flash newsletter each week - all the latest model info, updates, set preview pics and more!