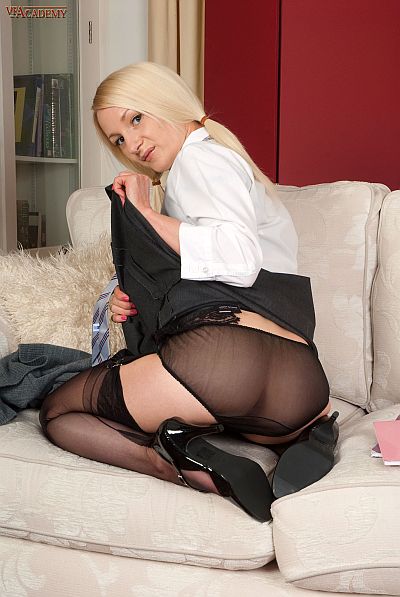 Chloe K gets very naughty when she pulls down her black nylon panties and masturbates in her stockings and suspenders at VF Academy.
Chloe was sitting at home doing her homework, but feeling bored she decides she'd rather do something naughty to keep herself amused.
'I'm glad you are here, because I'm really bored and fed up of doing this homework,' Chloe said, putting aside her books. 'Maybe you could be naughty with me? Is that what you'd like?'
Chloe lifts her skirt and rubs her pussy through the crotch of her sheer nylon panties. 'This is much better than homework, and I bet you like watching me don't you?'
Encouraging you to get your cock out, she unbuttons her blouse and rubs her tiny tits through the sexy black bra she is wearing, letting you know how much she'd like to get your cock in between them.
Removing her skirt and her bra, Chloe kneels and pulls her knickers down so they are stretched around her stockinged thighs to give a better view of her teenage pussy and ass.
Chloe then settles back on the sofa with her slim nyloned legs nice and wide. Then she encourages you to wank over her as she masturbates with several fingers slotted right up her tight little pussy.
Get our superb Vintage Flash newsletter each week - all the latest model info, updates, set preview pics and more!