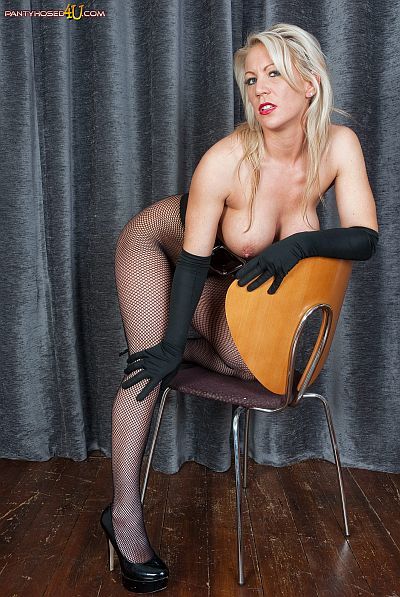 Looking very burlesque in sexy seamed fishnet pantyhose and heels, Ashleigh puts on a classic tease routine, with some seductive smoking and masturbation in her video at Pantyhosed 4U.
Ashleigh saunters onto the stage wearing fishnet pantyhose and stiletto heels and sitting astride a chair she screws a cigarette into a long holder and lights up.
Drawing thick blue smoke into her mouth, she lets it linger a moment before she blows it out in a thick cloud that surrounds her head.
'As you maybe noticed, I don't wear panties for these shows, just my fishnet tights, my heels, bra and gloves,' Ashleigh says, then pauses to draw on her cigarette and blow the smoke out through her red lipsticked lips.
Ashleigh gets up from her seat and parades around in her pantyhose and heels, turning to give a back view of the long black seam of her hose running up her shapely legs to her pert buttocks.
Sitting back down she runs her gloved hands over her long legs in their fishnet pantyhose and teases out of her bra, inviting you to put your cock between her voluptuous cleavage.
Ashleigh then opens her legs to reveal her naked pussy through the crotch of her fishnet hose, spreading the juicy lips of her cunt and teasing the erect clitoris with gloved fingers.
Her breast nipples stand out hard in excitement as she throws her head back, massaging her pussy slit through the crotch of her pantyhose to reach an intense on-stage climax.
Get our superb Vintage Flash newsletter each week - all the latest model info, updates, set preview pics and more!