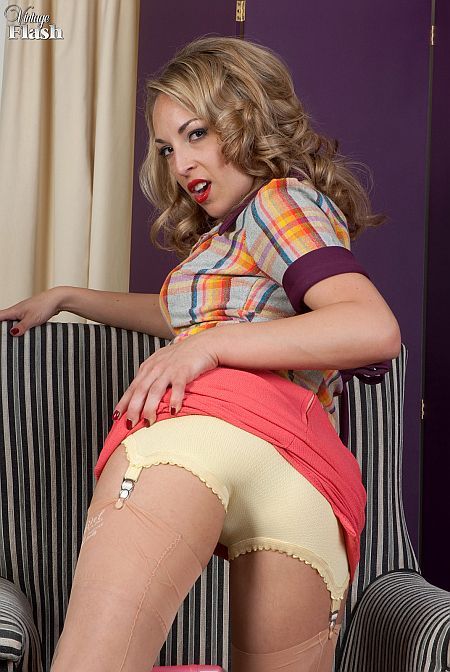 Feeling very horny in her stockings, Jessica entertains herself with a sexy striptease and that ends with her masturbating in this video at Vintage Flash.
Reclining on an easy chair in tailored 40s top and tight pencil skirt, lovely Jessica takes pleasure in caressing her shapely legs in tan full-fashioned nylon stockings.
'My fully-fashioned nylons, feel so silky against my legs', Jessica says, as her hands glide over the soft nylon sensual that caresses her skin. 'I bet you're wondering what else I'm wearing under here…'
Performing a very seductive striptease, Jessica unzips her pencil skirt and lets it fall to the floor, revealing the lemon yellow panty girdle about her hips and a matching brassier.
She looks ravishing as she bends slightly and feels her ass through the seat of her yellow girdle; running her hands up the back of her stockinged legs and over the raised edges of her metal suspender clasps .
Thoroughly aroused by the thrill of her underwear and stockings, Jessica's hand slips between her legs to massage her cunt through the gusset of her pantie girdle.
Posing provocatively in the chair with her stockinged legs apart, she pulls aside the gusset of her pantie girdle, spreading the juicy lips of her cunt as she prepares to masturbate.
Jessica's fingers slide easily up her lubricated hole, making sticky sounds as she reams the inner walls of her tight pussy. Then applying a pink vibrator to the head of her clitoris, she buzzes her pink love button and slides it over the wet lips of her juicy sex.
Jessica then lifts her legs upwards, and pulling back the gusset of her panty girdle she inserts the vibrator deep in her throbbing cunt . Pushing it faster and deeper, Jessica plunders her pussy hole with the vibrator and climaxes very loudly as she reaches an intense orgasm.
See Jessica Pressley stripteasing and masturbating in her girdle and stockings in this (179 image) photo set and video – 'A Little Naughty?'
Get our superb Vintage Flash newsletter each week - all the latest model info, updates, set preview pics and more!