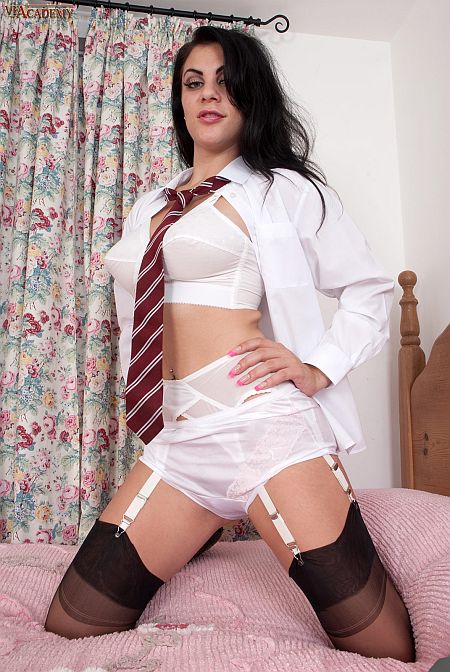 Bored with having to so her homework, Roxy would rather spend the time masturbating, as shown in her video at VF Academy.
Making herself comfortable on the bed, Roxy starts by lifting her skirt and touching her pussy through the soft, pink satin of her pantie crotch.
Removing her skirt and blouse, she gets on her knees and feels her arse through the seat of her tight panties, before removing her bra and kneading her all natural boobies in her hands.
Roxy teasingly removes her satin panties, then lies back with stockinged and suspendered legs open so she can insert a vibrator up her pussy.
Her cunt makes sticky wet sounds as she vigorously works the vibrator up her sex hole and makes herself cum.
See Roxy M wanking in her stockings and suspenders in this (226 images) photo set and 15 minute video – 'No To Work, Yes To Play'.
Get our superb Vintage Flash newsletter each week - all the latest model info, updates, set preview pics and more!