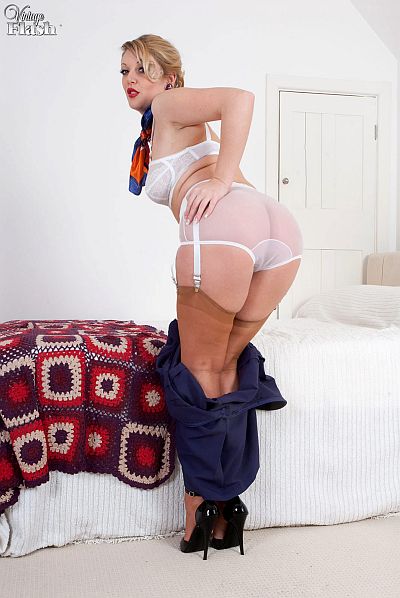 Like most women, Shay enjoys 'retail therapy' and spending money on nice clothes as it makes her feel good, but so does the sexy underwear she has been wearing under her clothes while she was out and about in town.
Walking around the shops in her high heels, feeling the tug of her suspenders at the tops of expensive French RHT nylons and the swish of her stockinged thighs under her dress, has made Shay feel decidedly horny.
"The fact that I'm wearing my sexiest underwear beneath this dress, and nobody but me knows, has made me feel quite saucy, " Shay says, sitting on the edge of the bed, lifting the hem to reveal her suspender clasps attached to the tops of her tan nylons.
"These felt so sexy and smooth on my legs all day in town,' she continues, letting her fingers lightly stroke her shapely stockinged legs. 'I've been waiting all day for you to run your hands all over them."
Shay begins to slowly striptease, unfastening the back zip of her tight dress, and looking over her shoulder as she seductively pulls it over the mounds of her curvaceous ass.
Sliding her dress slowly down her stockinged legs, she lets it fall to the floor, whereupon she steps out of it to stand in her bullet bra, white sheer panties, garter belt, stockings and heels.
Bending forward so her long suspender straps pull tightly at her stocking tops, Shay teases her nylon panties down slightly, leaving them stretched across the flesh of her firm round buttocks.
Then laying on the bed, she pulls her panties slowly down her stockinged legs and lets them dangle off her high heels until they fall away.
After slipping off her heels, Shay gives a close up view of her nyloned feet and toes while she gives them a rub, before spreading her legs to play with her exposed pussy lips.
Naked except for her French RHT nylons and white cotton suspender belt, Shay pulls one foot up to her mouth and licks her nyloned covered toes while she masturbates with fingers deep in her sopping wet cunt hole.
See Shay Hendrix stripteasing in nylon stockings in this (135 image) photo set and watch her masturbating to climax in her movie – 'Happy Shopper'.
Get our superb Vintage Flash newsletter each week - all the latest model info, updates, set preview pics and more!