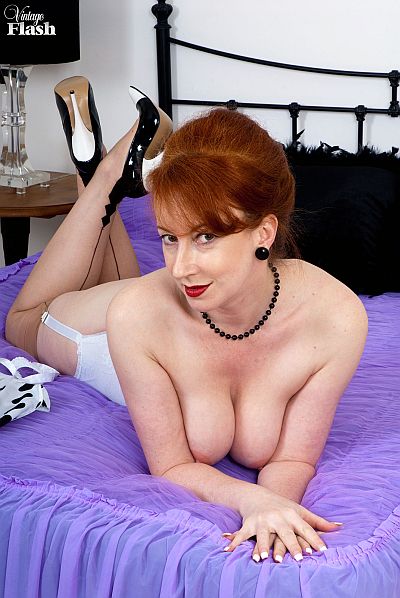 Red has been sent home by her boss because her figure hugging polka dot dress was causing too much distraction in the office.
Red's shapely figure and classy attire would make anyones head turn, but her boss claims that he can see her matching panties and garterbelt right though the dress, which is a bit too risqué for the office environment.
Maybe a trained eye could just make out the taut suspender clips attached to the tops of her 1961 full-fashion nylons through the flimsy fabric, but Red claims her boss was looking far to hard at the outline of her sexy underwear through her dress.
'I think I was putting people off their work, can you believe it?' She tell us, a little unconvinced by the bosses excuses for her dismissal. 'They must be having spots before their eyes!.
Fortunately for us, Red decides to give us a striptease so we can examine her divine underwear in close up, and form our own opinion.
Pulling up her dress to show off her lacy full cut panties, stockings tops and garter clasps, Red begins her naughty tease, then lets us watch her get very hot as she plays with herself for our pleasure!
See Red in striptease down to her stockings and masturbate in this (166 image) photo set and video  – 'Spots Before The Eyes' at Vintage Flash.
Get our superb Vintage Flash newsletter each week - all the latest model info, updates, set preview pics and more!