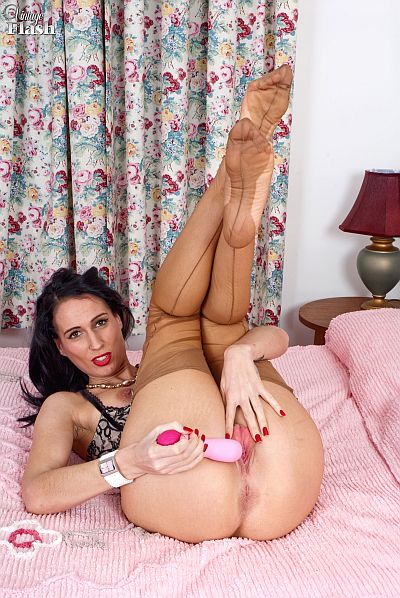 Tammy Lee was lying on the bed ready to go out for dinner, nicely dressed in a black dress, sexy point heel full-fashioned nylons and heels.
She'd been sorting through her shoes while I was getting ready, and when I went into the bedroom she showed me her favorite pink vibrating toy she had found in amongst her shoe collection by the bed.
She asked me if I liked the shoes she was wearing, which happened to be my favorite ones, as Tammy knows all my desires, especially when it comes to stockings, shoes and feet.
Tammy pointed out she was wearing sexy seamed nylons that made her legs look extra long, then slipped off one of her high-heel shoes.
'Look how sexy my feet are', she said, as I got in close to have a look. 'I know how much you like to see your spunk dribbling right down there,' she said, rubbing her stockinged foot with one long finger tracing the curve of the inner arch.
Tammy lifted her dress to show me she wasn't wearing any panties, and flashed her bare naked arse and pussy at me.
'What do you expect, I'm Tammy fucking Lee, I don't wear panties,' she remarked. 'Especially when I know you're taking me to dinner, and I can spread my legs under the table!'
Tammy noticed my cock was hard, and decided to put on a sexy show for me, lying on the bed with her stockinged legs apart and spreading the lips of her hot pink cunt.
Having stripped out of her dress, Tammy gave lots of views of her seamed stockinged soles, and spread her ass cheeks so I could see her puckered anus winking back at me!
Then removing one of her nylon stockings, she stuffed it right up her fuck hole and masturbated with her pink vibro at the same time. What a filthy bitch, but that's Tammy Lee for you…
See Tammy Lee's nylon stockinged feet this (152 image) photo set and watch her put on her filthy stocking sex show in the video – 'Best Foot Forward' at Vintage Flash.
Get our superb Vintage Flash newsletter each week - all the latest model info, updates, set preview pics and more!