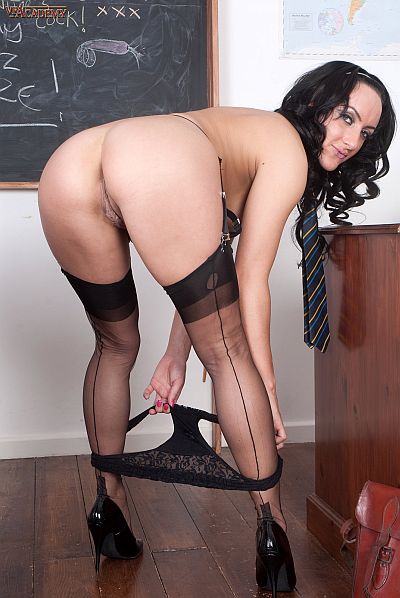 Chole's skirt was stolen from the changing room by one of the other girls while she was out playing hockey.
She had no choice other than dressing the best she could, which meant she had to walk down the hallway in her stockings, suspenders and heels.
One of the teachers saw Chloe showing off her sheer full-fashioned nyloned legs and lacy panties as she passed down the hall. Chloe had some explaining to do, but she managed to avoid getting detention and promised to go straight to her room to get properly dressed.
However, walking around the school corridors in just her stockings, panties and heels, had given Chloe quite a sexual thrill. So instead of going up to her room she slipped into a quiet classroom to have a play with her pussy.
Finding we are in the room, she explains what has happened, and begins to show us her fabulous legs in sheer nylons, and perfectly pert ass in sexy black lace panties.
Having such an appreciative audience encourages Chloe to get even naughtier, and she puts on a hot teen strip show for our pleasure.
We watch as she teases out of her uniform, removes her polka dot bra, and pulls her knickers down her seamed stockinged legs to show us her rosy pink wet pussy.
Chloe then climbs on the teacher's desk and spreading her legs, frigs her moist teen cunt to give herself an intense orgasm.
See Chloe Lovette strip off her uniform in this (138 image) photo set and masturbate in her nylon stockings in 'Stolen Skirt' at VF Academy.
Get our superb Vintage Flash newsletter each week - all the latest model info, updates, set preview pics and more!