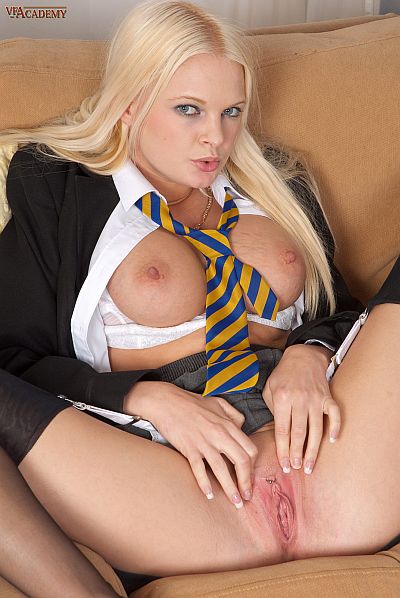 Kelly has just got back from spending two hours in detention and she's feeling very horny indeed!
She confesses she's had a bit of a session with the caretaker while they were alone in the classroom, where she put on a sexy striptease show, stripping down to her stockings and masturbating right in front of him.
Kelly's sexy striptease has made her feel even hornier, especially after seeing the caretaker's big erection as he wanked himself off! Seeing the size of his big stiff member has made her wonder what it would be like to have a nice big cock like that, right up her ass!
'All I can think about is someone putting their big fat cock in my arse!' She tells us, as she strokes her hands over her seamed stockinged legs. 'I bet it feels so good in my tight little arsehole!'
Our cute looking nyloned miss has a very dirty imagination, and she goes on to describe how she wishes the caretaker could be here right now, so he could lick her arse hole and then fuck her up the ass with his big fat cock!
'I love sucking dick, deep in the back of my throat', Kelly tells us, unbuttoning her crisp white blouse. 'You should get your dick out for me,' she suggests. 'Unzip your trousers and pull out your big dick, and stroke it for me!'
Kelly continues telling us her dirty fantasies as she removes her uniform. Then slipping off her black nylon panties, Kelly fingers both her ass and pussy at the same time. Working her digit up her bum hole, she gives herself an anal orgasm as she urges you to 'cum in her ass!'
See Kelly Fox masturbating in this (133 image) photo set and watch her finger her ass and pussy in 'Gagging For Anal' at VF Academy.
CLICK HERE TO GET THE FULL 15 MINUTE VIDEO OF KELLY FOX  AT VF ACADEMY
Get our superb Vintage Flash newsletter each week - all the latest model info, updates, set preview pics and more!