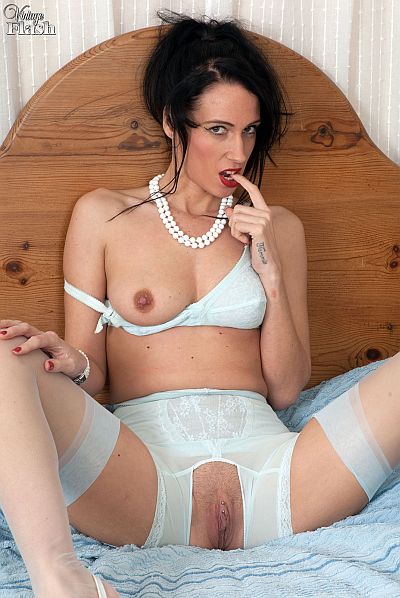 Tammy loves to dress up to please, and when she turned up to do this video she said she had brought along something special to wear, which she knew I was going to love!
I set up the video equipment and waited with excitement as she got changed in the next room.  When she was ready she entered the bedroom wearing a fabulous 1960s baby blue pantygirdle with a sexy open crotch, matching full cup bra and 15 denier nylons.
Knowing how much I like vintage underwear, and especially girdles, Tammy had certainly got my attention!
'Yes of course I'll bend over for you', she said, turning to show off her perfectly shaped arse clad in sexy tight Lycra. That sexy garment has real possibilities, I thought, as I viewed with pleasure the tantalizing look of her cunt through the open bottom of her girdle.
'Do you like that, you naughty boy?' She asked, needlessly, as I got in close to capture some lovely rear shots of her ass and pussy.
Kneeling on the bed Tammy presented me with her girdled arse and exposed pussy. 'Hmm, take a good look at Tammy Lee's bacon,' she said, as she playfully rocked back and forth on her knees, moving her sexy ass as if teasing for a fuck through her crotchless girdle. 'That pussy is dying for your cock!'
Changing position she lay back and opened her legs so I could see her shaven pussy through the sexy opening of her girdle.
'I'm feeling is a very, very filthy mood today,' she said, opening her legs wide and pulling the elasticated lips of her labia between her fingers. Tammy was most definitely in the mood for talking real dirty and started to describe how her hot cunt would suck in a cock and give it a good milking.
Naughty nyloned slut that she is, Tammy put on a real dirty show for me, fingering her holes and shoving a dildo up her juicy wet cunt. As she bucked her hips and writhed on the bed with her fingers up her hot snatch, Tammy caused herself to have a loud and satisfying climax in her girdle.
See Tammy Lee wanking in her pantygirdle in her (159 image) photo set and full length movie 'Pantygirdle Pleasures' at Vintage Flash.
CLICK HERE TO STREAM OR DOWNLOAD THIS FULL LENGTH MOVIE OF TAMMY LEE
Get our superb Vintage Flash newsletter each week - all the latest model info, updates, set preview pics and more!