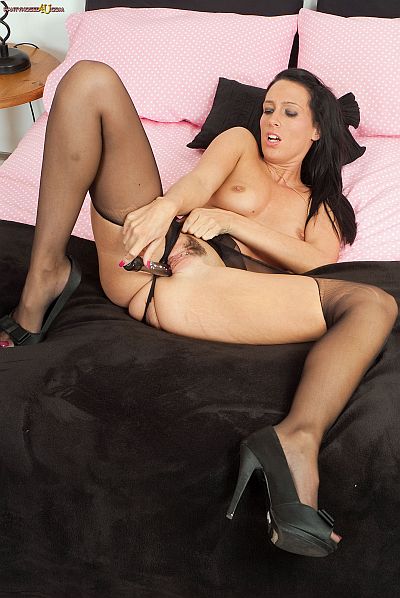 CLICK HERE TO SEE MOVIE TRAILER OF TAMMY IN HER PANTYHOSE
Tammy likes nothing more than relaxing on the bed in her pantyhose at the end of a busy day.
Relaxing is one thing, being as horny as fuck is another, which is not unusual for Tammy.
'You can stroke my long, gorgeous nyloned legs if you want to!' She tells us, as she reclines on the bed with her pantyhosed legs stretched out for our viewing pleasure.
'I knew I was going to spend the evening with you, so I put them on specially, as I know you like them', she says, as she playfully sweeps her pantyhosed foot over the quilt surface and seductively strokes her thigh.
'Can I let you in on a little secret', she asks, as she plays with her high heel and slips it back onto one foot.
'I'm feeling horny, no surprise there then', she whispers. 'But I feel extra specially horny when I'm wearing these gorgeous, long, nylon tights'.
Yet, Tammy has another secret to share with you… She's not wearing any panties under that tight short skirt! As you will discover when you watch her strip down and pleasure her pussy in nylon…
Rubbing her pink, swollen pussy through the sheer gusset of her pantyhose and inserting her dildo inside, Tammy makes her hole hot and moist for fucking. Then the ripping begins…
See Tammy Lee rip open her pantyhose and masturbate in her (134 image) photo set and full length movie 'Relax In My Pantyhose' at Pantyhosed4u.com.
Get our superb Vintage Flash newsletter each week - all the latest model info, updates, set preview pics and more!