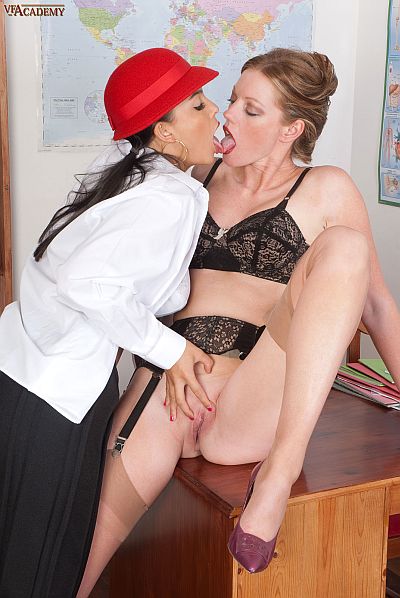 Sasha is in trouble with Miss Kiss for wearing fancy black socks, instead of the recommended white socks the girls at the Academy are expected to wear.
Ms. Kiss orders Sasha to the front of the class for an inspection, and while she's there, her teacher lifts her skirt to make sure she's wearing the correct panties.
At least Sasha's white cotton knickers meet her teacher's approval. So much so, that Sasha's form mistress can't help but feel up her pert bottom through the soft material of her tight white panties and give it a spanking!
With Sasha bent submissively over the desk, Miss Kiss takes down her panties to inspect her pussy.
Pulling Sasha's pussy lips apart to see how aroused she has become, Miss Kiss can't resist sticking  her tongue in her moist hole and giving it a lick with her lascivious tongue.
Aroused by Miss Kiss's attention to her tits and pussy, an excited Sasha unbuttons her teacher's top, and removes the black lace bra to lick Miss Kiss's firm mature tits.
Helping Miss Kiss out of her tight gray pencil skirt, Sasha's hands soon find their way into her teacher's knickers to give her mature cunt a good rub.
Miss Kiss soon finds herself laying back on the desk with Sasha's head between her stockings legs, receiving an expert cunt licking from her student that surpasses her expectations.
It would appear that Sasha has learned well from Miss Kiss's lesson in cunnilingus.
See Ms. Kiss and Sasha seduce each other and enjoy pleasuring their cunts in this (174 image) photo set and full length movie 'Wrong Socks' at VF Academy.
Get our superb Vintage Flash newsletter each week - all the latest model info, updates, set preview pics and more!