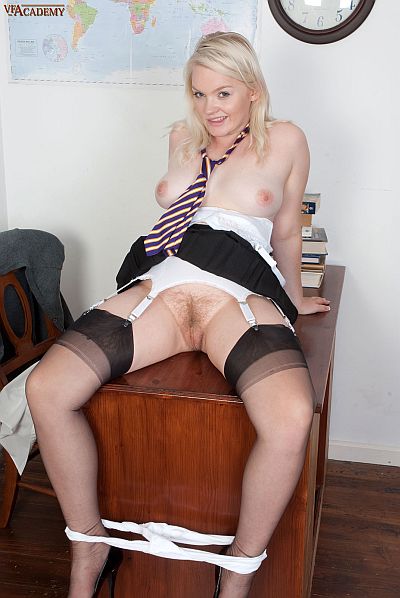 Jade is in detention again for fighting with some of the other girls at the academy.
They were picking on her because she has big boobs and a hairy pussy, and though she was rightfully defending herself, the teachers put the blame on Jade for 'telling tales' about who started the fight.
However, we happen to like Jade's unique qualities quite a bit, and she certainly appreciates the attention we give her as she chats to us in private.
Because we are nice to her, Jade unbuttons her blouse and shows us her big boobs, kneading her soft, fleshy mounds with her hands and tweaking her nipples.
Then siting on the edge of the desk, Jade pushes her hands down the tops of her stockings and feels her chubby thighs, before stripping out of her crisp white blouse.
Pulling her white cotton panties down until they are around her plump stockinged legs, she stands and shows us her blonde hairy muff, perfectly framed by the straps of her suspender belt and stocking tops.
See Jade Samantha strip down to her stockings and suspenders, then rub her hairy snatch in her (129 image) photo set and hi-def movie 'Matching Collar and Cuffs' at VF Academy.
Get our superb Vintage Flash newsletter each week - all the latest model info, updates, set preview pics and more!