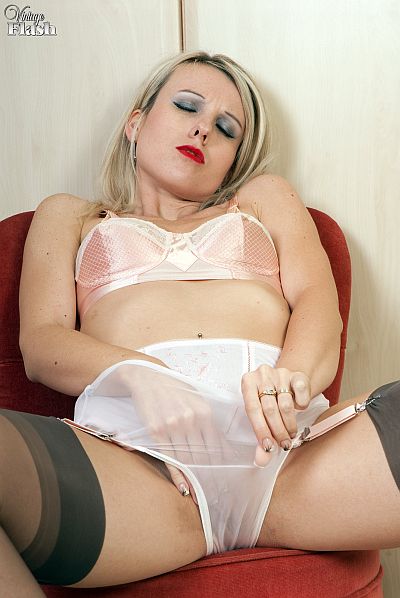 Fresh from a good nights sleep, Evey greets you 'good morning, darling' in her sheer black nylon robe and panties.
The sight of Evey in her negligee and panties has got your attention, and you're in the mood for a 'quickie' before work. However, Evey does not have the time for a morning 'roll in the hay', so instead she lets you enjoy watching her get dressed.
Evey begins by putting on her pink garter-belt, then seductively rolls on her pewter full-fashioned nylons stockings and attaches the suspenders. She then pulls up her sheer full cut pink panties and poses, showing off her pussy through the nylon mesh of her knickers, very naughty.
To complete her dressing, Evey puts on a pink vintage bullet bra and dons a pair of sexy heels, by which time she is feeling as equally turned on by her lingerie tease as you are!
A hot wanking session follows showing Evey masturbating with her hands down her knickers, then it's off to work, leaving you with your cock in your hand and time to play.
See Evey reverse striptease in her stockings and suspenders in this (161 image) photo set and full length movie 'Dressing Me Down' at Vintage Flash.
Get our superb Vintage Flash newsletter each week - all the latest model info, updates, set preview pics and more!