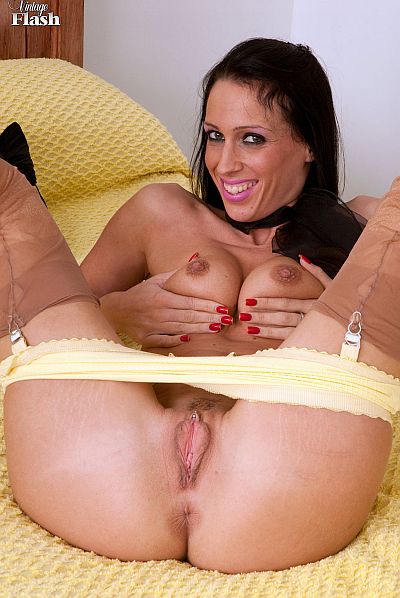 Tammy Lee is looking smart and cool for a job interview in her yellow dress, and has selected a mellow yellow bra and matching French pantygirdle, plus rare Magnolia 3980 glimmer full fashion nylons to complete her outfit.
Provocatively dressed to impress, Tammy Lee asks, "If I flashed my stocking tops at you, would you give me the job straight away? Or, if I told you I love "bum fun", you'd definitely give me the job then, wouldn't you?'
Tammy Lee then shows you how she's going to do a striptease for the boss, if she gets the job, but before she does there's one proviso – you must unzip and wank your cock as you watch her strip down to her yellow pantygirdle and seamed nylon stockings.
Watch as Tammy Lee lets you explore her girdled ass as she sprawls on the bed, then pulls her pantygirdle crotch to one side as she plays with herself in a very explicit masturbation scene!
See Tammy Lee play with her girdle and then finger her arse in this (130 image) photo set and full length movie, 'Pantygirdled Player' at Vintage Flash.
Get our superb Vintage Flash newsletter each week - all the latest model info, updates, set preview pics and more!