Ella is in the mood for some erotic fun and teases on the bed in her silky nylon slip, garter-belt, fully-fashioned nylons and heels. Watch her pull down her nylon panties, twerk her delicious bottom, encourage you to play with your cock and invite you to give her a fuck.
Ella knelt on the bed, caressing her body through the slinky material of her slip and lifted it to show her sheer nylon panties, garter-straps and metal clasps attached to her black stockings. 'You can just about see my pussy, through my sheer panties.' She rubbed her hand over the crotch of her panties, framed by the garter-straps and the metal clasps attached to her black stockings.
'Fully-fashioned nylons, they look so sexy with those seams running up my leg, don't they?' She reached down to her ankle and drew her hand over her calves, enjoying the sensation of her fingers tracing the line of the black seam up the back of her shapely leg.
'But that's enough about me and what I'm wearing. I want to see your cock. I want you to unzip those pants of yours and get it out for me.' She whispered seductively, leaning forward to give a view of her cleavage down the top of her slip and get more intimate. 'You want to put it in my mouth and have me lick the tip for you.' Licking her lips, she slipped out her tongue and gave it a suggestive wiggle. 'Go on, play with it for me, while I tease.' She gestured with her hand as if stroking a big erection. 'Wank it for me, that's what I want you to do.'
Ella stripped off the slip and removed her bra, cupping her lovely tits in her hands and circling her thumbs over the dark brown nipples. 'My nipples are hard just like your cock, you could rub it in between my bum cheeks,' she suggested and shifting around on her knees, slipped her panties over the cheeks off her ass, leaving them stretched around her thighs.
'Oh look! Your cock is rock hard now, isn't it?' Ella looked back and began to shake her rear end. 'How horny does that look?' She smiled, her ample buttocks rebounding as she twerked her fabulous round ass. 'You want me bouncing on your cock now, don't you? Bounce, bounce, bounce!'
Ella stripped off her panties and gave them them a sniff, then sat back with her legs open and brushed the short pubic hairs covering the mound of her pussy. 'Shall I open it for you, so you can slide your cock inside?' She beckoned to come closer, put her hand between her thighs and parted her labia with her fingers. 'Look at that,' her voice lowered in a husky whisper as she spread the lips of her cunt open, invitingly, 'Stick your rock hard cock inside there for me, I'd love that!'
*********************************
Download or watch all of our lingerie, stockings and pantyhose videos at NHLP Central

Get our superb Vintage Flash newsletter each week - all the latest model info, updates, set preview pics and more!
NEW SERVICE FOR ALL SMART PHONE USING NYLONS LOVERS!
Text Nat here to get all her pics sent to your phone!
JUST TEXT 'WHITESEAMS' TO 69666
Phone fun day or night!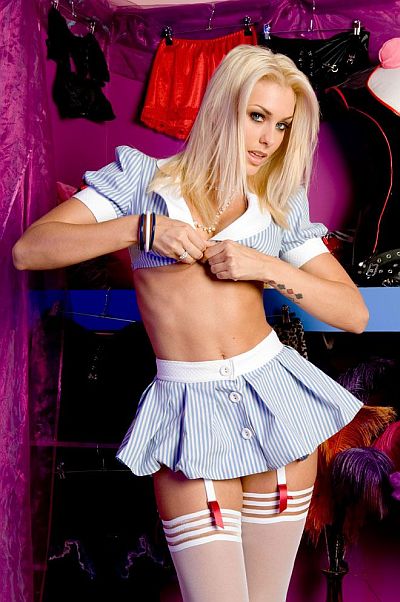 Terms & Conditions (Max 3x £1.50 per msg sent) help: 03333356970 PNP MEDIA - 2 STOP txt STOP
.......................................................................................................