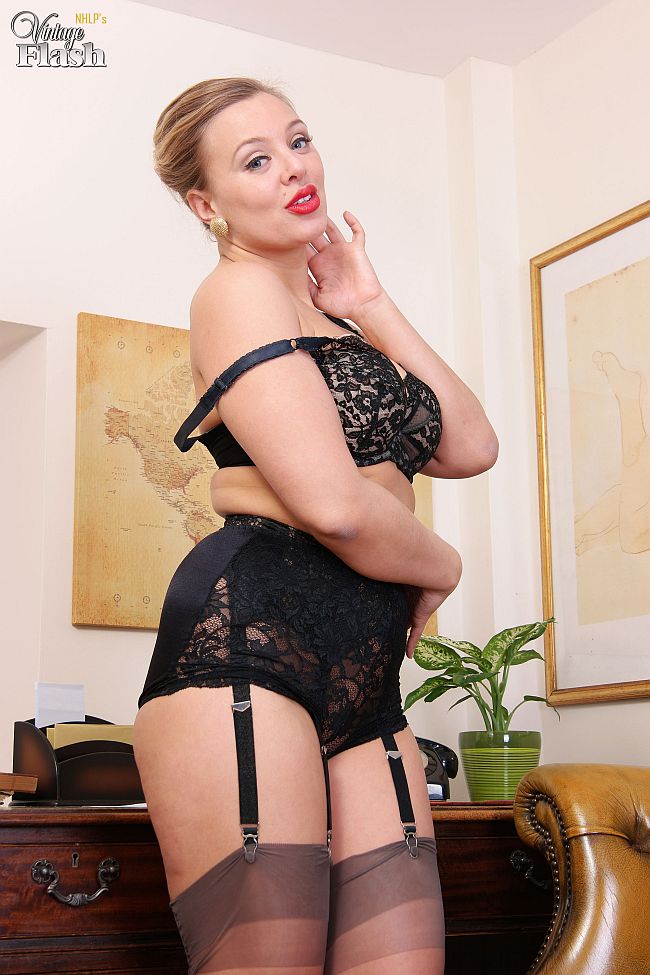 Paying a visit to your personal masturbation instruction therapist, Beth is here to help you get off! As you sit in her office, she reads your case file and knows just how to get you excited and aroused as she stripteases down to her black lace lingerie and grey nylons stockings for your pleasure.
'You're far from the worse case I've seen and I've managed to help everybody, and with my encouragement, you are going to do just fine,' Beth says, sitting at her desk looking like a smartly dressed secretary in her sexy outfit, her skirt pulled back slightly to give a tantalizing glimpse of her stocking tops.
'So your a bit of a leg man, are you? I thought you might be, as I noticed you eyeing up my stockings,' Beth remarks, lifting her legs and resting them on the edge of the desk, ankles crossed, to give a view of her feet in their spiky designer stiletto heels. 'Look at these sexy heels. I like the way they elongate my legs and push everything up when I walk. Do you like that?'
Beth gets up from her chair and stands in her heels, flaunting her voluptuous curves in her slinky black slip and showing off her shapely legs in their seamed, fully-fashioned nylons.
'Now, in order for you to follow my instructions properly, I do need you to fully undress for me,' Beth requests, leaning against the desk as she continues her instruction. 'I understand it can be quite intimidating being the only naked one in the room. So in order to make you feel more comfortable, I'm more than prepared to undress as well,' she says and seductively unbuttons the front of her short, grey jacket and strips it off to unveil her slinky black slip.
'So unbuckle that belt for me, trousers down, very good,' she says approvingly, and unzipping the back of her pencil skirt, she slides it over her shapely arse and down her stockinged legs to the floor. Stepping out of the skirt, she stands in her heels and strips off her slip to reveal her fabulous, black lace bra supporting her ample boobs, sheer lace panties and black suspender belt.
'Now, a lot of men make the mistake of getting excited too quickly,' Beth continues, now sitting on top of the desk. 'So I'm going to tease you, as sometimes it's best to delay your pleasure, knowing that in the long run it's going to pay off,' she whispers seductively, her fingers lightly caressing the flesh of her cleavage and slowly pulling down the cups of her bra to uncover her delicious, all natural breasts.
'You have to be patient as you tease yourself and wait, build the anticipation and feel that excitement bubbling up!' Beth says, sliding her hand between her thighs and feeling her hot pussy through the crotch of her lacy panties. 'I bet you're anticipating it now, aren't you? As you stroke your cock, tugging it up and down,' she says, gesturing instructively with her hand while encouraging you to masturbate openly in front of her.
What our members are saying about Beth Bennett in this scene:

Retr***says: A nice bit of two finger fucking from top class totty. Lovely

Thom*** says: Beth has an enticing exotic look about her that's very captivating. The balance between full-figure and trim is amazing. Well done VF.

Road*** says: There is nothing more seductive than a mature woman crossing and uncrossing her legs revealing her stocking tops. Beth looks ravishing in her attire. Love those dark grey nylons on those full gorgeous legs, along with her sexy strip show.
Get our superb Vintage Flash newsletter each week - all the latest model info, updates, set preview pics and more!