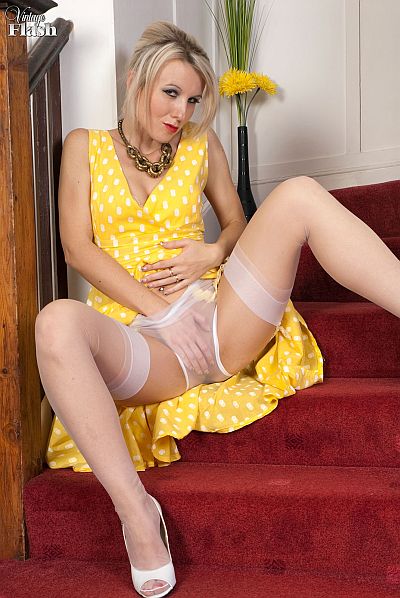 Evey looks stunning as she descends the stairs in her flowing summer frock and greets us with a smile. 'Hello Darling, I can see you are pleased to see me again'.
Oh yes, for sure, it's always a pleasure to be with Evey and she always dresses to tease and please.
'Do you like my new dress?' she asks, lifting it just enough to show us she is wearing stockings and suspenders underneath. 'It makes me feel really sexy, I can play with it', she says, lifting the hem and letting it fall again. 'Are you going to play with me as well?'
Evey's invitation is full of promise, but first she teases us by caressing her thighs and ass through the material of her dress, then opening her legs she gives us glimpses of her pussy slit, sheathed in gorgeous sheer white full cut nylon panties.
Evey's delicious seduction continues as she gradually strips out of her dress, down to her matching primrose yellow bra and garter belt, light nylon stockings and sexy peep toe stilettos!
Evey then starts to rub her cunt through the mesh of her sheer white panties, and slides her hand down the front of the see-through nylon to frig her moist hole.
Evey is hot and horny at the thought of you watching her pussy playtime and masturbates for your delectation in 'Dressed, for you my darling!' at Vintage Flash.
Get our superb Vintage Flash newsletter each week - all the latest model info, updates, set preview pics and more!