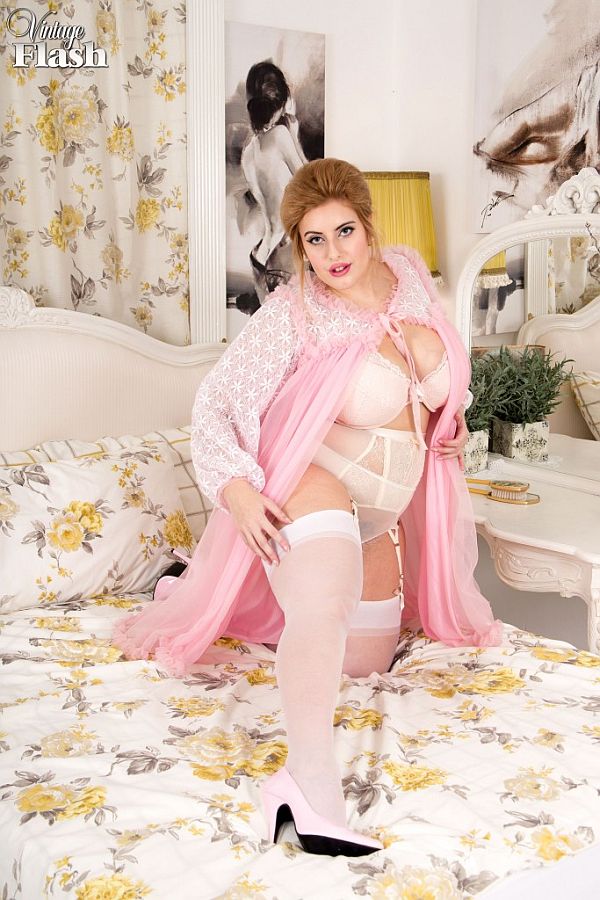 Cuddly blonde Ellie, ready for bed in her boudoir, reveals her pretty lingerie, ivory stockings and pink heels, and teases her way to orgasmic pleasure in this video…
'Hello there, you have just caught me getting ready for bed,' Ellie says, as she shows off her voluptuous curves in her favorite vintage nightdress, bra, panties, suspender-belt and white stockings. 'I love nothing more than getting dressed-up in my soft, vintage nightie and stockings, I love the way they hug my legs.'
Ellie runs her hands over the front of her panties and being an all natural girl, she shows off her hairy pussy, visible through the white, sheer nylon. She admires how her legs look, caressing the surface of her stockings and sliding her hand down the tops to feel the flesh of her plump thighs.
Ellie takes off her night-dress and slipping the straps of her pink bra over her shoulders, she presses her huge tits together inside the loose cups. Rubbing the bra over her boobs, she slowly strips it away to fully reveal the fleshy mounds of her voluptuous breasts, hanging heavy down her chest.
'I imagine you are already wanking that cock thinking about touching my sheer panties, sliding you cock up against them, then putting your hand down them and feeling my bush,' Ellie says, as she whispers seductively and brushes her fingers through the springy hairs inside her sheer nylon panties.
Ellie rolls down her panties, leaving them stretched around her thighs, then kneels and pulls one cheek of her arse to the side to show off the luscious lips of her cunt and suggests she would like to be taken from behind.
Stripping off her panties, she lays back with her legs spread wide open and rubs her rolled up knickers over her hairy pussy and up her legs in their white stockings. Laying in that position with her hairy cunt exposed, her taut suspenders stretched around her thighs and pulling on her stocking tops, she invites you to wank your cock as you watch her masturbate to climax.
Get our superb Vintage Flash newsletter each week - all the latest model info, updates, set preview pics and more!