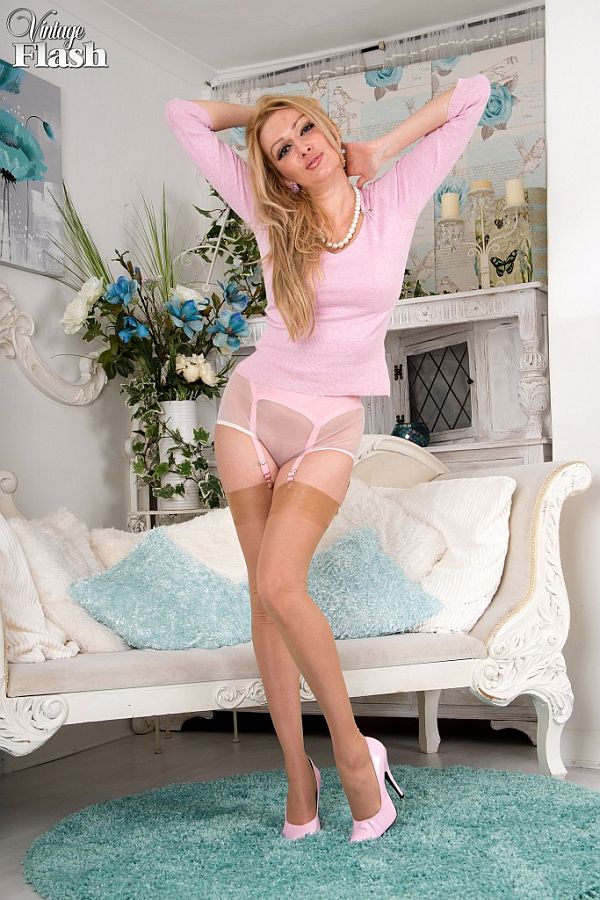 Amber welcomes you to join her as she relaxes in her parlour, wearing a tight pencil skirt, figure hugging pink sweater, lovely seamed stockings and candy pink heels…
Feeling horny, Amber relaxes on the couch and lifts up her legs, to admire her heels and draw her hands over the shiny surface of her stockings. 'I like these stockings they feel silky and fit like a glove,' she says, sitting with her legs slightly open to give an upskirt view, while she caresses her slender legs in their tan nylons. 'Would you like to run you hands up and down my stockings?'
Amber runs her hands over her body and up to her boobs, feeling them through her sweater, under which her 50's style, bra makes her boobs look so pointy through the tight material. She turns to give a view of her legs in their seamed stockings and bends over, her hands feeling the shape of her bum through her tight skirt as she gives it a sexy, little wiggle. She then strips off her skirt and lets it slide down her legs, revealing a pink garter belt around her hips; the suspenders attached to her stocking tops, framing her pussy behind the sheer nylon crotch of her panties.
Amber takes off her sweater, revealing a pink gingham bra and pulls down the cups to give a peek at her lovely big tits, squeezing and massaging them together, before stripping the bra away. She turns and hooking her thumbs into the elastic of her panties, bends over as she slowly peels them over the cheeks of her arse and down her stockinged legs, leaving them stretched around her ankles.
Amber strips her panties over her heels, then lays back on the couch and spreads the lips of her cunt wide open to show the pink flesh of her vulva, glistening wetly with her flowing juices. Lifting her legs and crossing them at the ankles, she draws her hands down the back of her seamed nylon stockings and over the curves of her fabulous arse, sliding her thumbs under her taut suspenders and allowing them to snap against her buttocks.
Get our superb Vintage Flash newsletter each week - all the latest model info, updates, set preview pics and more!