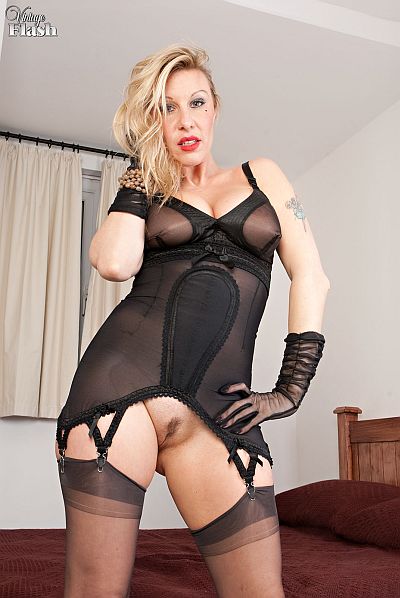 Saffy visits her friend's house thinking she is going to have some threesome fun and games, but instead her friend goes out for the evening with her husband leaving her on her own.
Her friend must have been teasing, when she told Saffy that her husband loves women in nylon stockings, girdles and high heels.
Saffy came all this way dressed up in her finest Brettles full-fashioned nylon stockings, tight pencil skirt and 6″ spiky heels, believing she is going to get a shag off her friend's husband. Now Saffy is feeling pissed off at being left high and dry.
It's not her friend's husbands fault, as he has probably no idea his wife had been winding up Saffy about his taste for glamorous women in stockings.
Sure, she invited Saffy to come and visit, but as soon as she saw her looking so stunning in her retro clothes and nylons, she whisked her hubby out of temptations reach for the evening.
Frustrated at being left on her own, Saffy decides she will just have to take care of her own needs, and have a good wank on the bed while thinking of her her friend's husband.
Poor guy, just doesn't know what he is missing, but fortunately we get to spend time with Saffy instead, and boy does she put on a real sexy show for us lucky fellers!
Spend some quality time alone with Saffy and enjoy seeing her striptease down to her girdle and nylons, then masturbate for your pleasure in 'Saffy – Girdled Guest'.
Get our superb Vintage Flash newsletter each week - all the latest model info, updates, set preview pics and more!