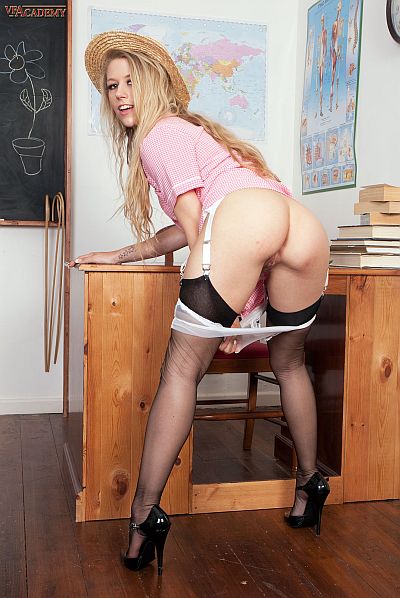 Ms Rouge always makes sure the 'new girls' at the academy get to know who is boss, and will use any pretext to make them lift their skirts and check their underwear.
New girl Michelle is in trouble already, as MS Rouge caught sight of her pert teen bottom encased in see-through panties. She was only copying what the other girls were wearing, but apparently they have earned the right to wear the sheer nylon panties.
New girls must wear the cotton variety and then graduate to other types of knickers, as MS Rouge reminded her when she was given a dressing down in front of the class.
Michelle believes MS Rouge really didn't mind her wearing those sheer white panties, but just wanted to make and example of her anyway.
At least Michelle was wearing the correct nylons and her suspender-belt straps were correctly attached to the welt of her stocking tops. MS Rouge couldn't find fault with her on that particular issue, thankfully. It was for wearing those sheer panties that she was ordered to take detention and write lines.
No matter, this petite blonde makes her stay in detention very interesting. Showing off her stunning legs encased in sheer black rht's, Michelle pulls down her panties and gives them a good sniff before rubbing them over her cunt as she masturbates.
When she's finished this naughty minx makes sure to leave them as a present on Ms. Rouge's desk!
Watch Michelle strip off and play with her panties until they are filled with her pussy scent in 'Michelle Moist – Panties for Ms. Rouge' at VF Academy.
Get our superb Vintage Flash newsletter each week - all the latest model info, updates, set preview pics and more!