When you visit Chessie in her bedroom, she makes it clear who is in charge and what she wants you to do while she teases in her black nylon stockings and heels…
'Do you, like these seams?' Chessie teasingly lifted up the hem of her pleated skirt to reveal what she was wearing underneath.'You look like you are getting a little bit excited,' she remarked and lifted her skirt even higher to show her long white suspenders stretching to the tops of her black, seamed nylon stockings.
Chessie knelt on the bed with her legs apart to give a view of her white panties. 'Are you looking up my skirt!' She chided, yet pulled up her skirt even higher to give a proper look at her white cotton panties and taut suspenders radiating out to the tops of her black nylon stockings.
'If you start wanking your cock, I might show you a little bit more,' she said, then knelt with her arse tilted up and her skirt around her waist to fully display her white panties, her seamed nylon stockings wrinkling at the back of her knees.
Chessie continued to tease me as she stripped off her uniform and removed her bra, then hooking her thumbs into the elastic waistband of her cotton panties, she slowly tugged them over her arse and slipped them down her stockinged legs.
'Do you like watching a dirty little slut play with her pink pussy,' she said, as she sat with her legs open and slotted several fingers between the splayed lips of her moist cunt. 'It looks as if it's ready for your big cock, but I'm just going to let you watch me masturbate!'
Kneeling once more she exposed the puckered ring of her arse, spreading the soft, pink lips of her twat wide open with her fingers. 'I bet you'd love to fuck me in this position, wouldn't you?' Chessie inserted her fingers and thrust them rapidly up the tunnel of her wet fuck hole. 'Slide your cock right in and stretch my tight, little cunt!'
Get our superb Vintage Flash newsletter each week - all the latest model info, updates, set preview pics and more!
NEW SERVICE FOR ALL SMART PHONE USING NYLONS LOVERS!
Text Nat here to get all her pics sent to your phone!
JUST TEXT 'WHITESEAMS' TO 69666
Phone fun day or night!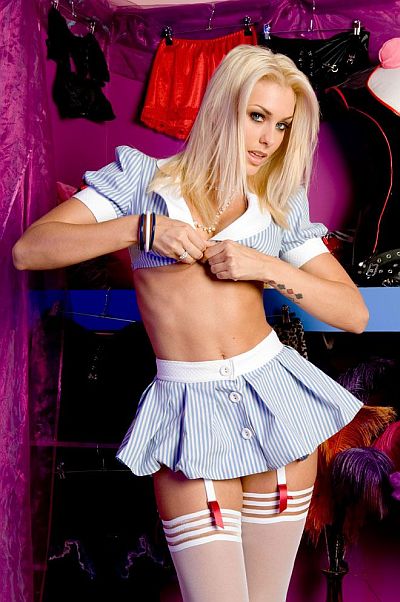 Terms & Conditions (Max 3x £1.50 per msg sent) help: 03333356970 PNP MEDIA - 2 STOP txt STOP
.......................................................................................................