Jay decided not to wear her bra under her uniform today, and the fullness of her tits pressing against her tight, white shirt caused some of the boys in her class to get excited.
Enjoying the sudden attention, she opened her shirt right there in the class room to let the boys have a better look, just as the teacher entered and caught her juggling her boobs in her hands.
Jay was sent to stay in detention for the remainder of the afternoon, where she unbuttoned her shirt to let the janitor have a look at her nice big titties!
Pulling open the front of her shirt so it framed her boobs, she lifted her voluptuous pale breasts and pushed them together, kneading the mounds of ample flesh in her hands.
'Do my nice big tits make you want to pull your cock out and give it a little rub for me?' Jay asked, tweaking the nipples between her fingers and making them bounce up and down in her palms.
Jay removed her shirt and bending over she pulled her pleated skirt over her sumptuous arse and gave it a sexy wiggle in her black, sheer nylon panties. The skirt slipped down her shapely legs in their seamed nylon stockings, then she stepped out of it and stood in her shiny heels with her legs apart and gave her pantied ass a little shake.
Hooking her thumbs into the elastic waistband of her knickers, she pulled them down and gave her nice, big ass another bounce, making her fleshy buttocks wobble as she humped them up and down.
Jay climbed onto the teacher's desk and spreading her stockinged legs open, she rubbed the slit of her moist, tight pussy and fingered the flesh of her erect clitoris to bring herself to orgasm.
Get our superb Vintage Flash newsletter each week - all the latest model info, updates, set preview pics and more!
NEW SERVICE FOR ALL SMART PHONE USING NYLONS LOVERS!
Text Nat here to get all her pics sent to your phone!
JUST TEXT 'WHITESEAMS' TO 69666
Phone fun day or night!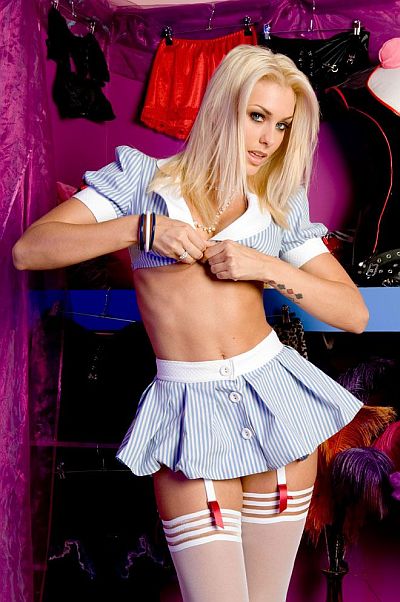 Terms & Conditions (Max 3x £1.50 per msg sent) help: 03333356970 PNP MEDIA - 2 STOP txt STOP
.......................................................................................................