Natalia was getting ready to go out with her girlfriends for the evening, looking very sexy in a purple, tight fitting dress, black pantyhose and heels.
'Typical, you've caught me just as I'm going out,' Natalie chided, knowing exactly what I was thinking as I admired her shapely figure in that expensive evening dress.
'Yes, I'm wearing pantyhose, I guess you'll want a little peek,' she said knowingly, smiling as she turned around to slowly lifted up the back of her dress and give me a look at her pert bum, encased in black, sheer nylon.
Natalia sat on the edge of the dresser and opened her legs to reveal she was not wearing any panties under her pantyhose. 'You always do this to me,' she said, as her hand began to rub her pussy through the opaque gusset of her nylon tights, adding, 'though I just can't help it, you get me all horny.'
Deciding we had time for a little play, she stripped out of her dress and lay on the bed where she began to grind her hips as she massaged her pussy through the crotch of her tights.
Slipping her hand down the front of her hose, she pushed her arm under the tight layer of nylon until it was up to her elbow. Then she pressed her fingers against her clitoris and rubbed the moist slit of her cunt; her hand moving under the tight, nylon screen of her sexy nylon pantyhose as she masturbated.
Natalia grabbed the crotch of her pantyhose and pushed her fingers through the taut nylon, causing it to break open and run in ladders down her thighs. She pulled on the reinforced gusset so it was tight against her pussy and bucked her hips to derive pleasure from the friction of the nylon as it rubbed against her hot clitoris.
Shredding what remained of the gusset of her hose, she got into a kneeling position with her as tilted up; exposing her naked cunt and the puckered ring on her tight, little ass, surrounded by strips of tattered nylon.
Natalia then pulled her arse cheek to one side and slotted several digits into the moist opening of her hot snatch; fucking herself with her fingers slapping against the lips of her tight cunt as she reached her climax.
Get our superb Vintage Flash newsletter each week - all the latest model info, updates, set preview pics and more!
NEW SERVICE FOR ALL SMART PHONE USING NYLONS LOVERS!
Text Nat here to get all her pics sent to your phone!
JUST TEXT 'WHITESEAMS' TO 69666
Phone fun day or night!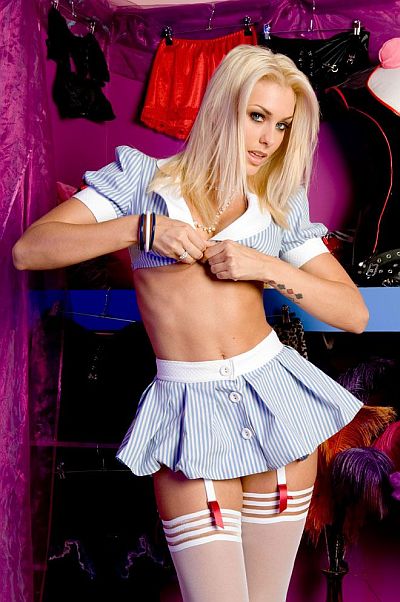 Terms & Conditions (Max 3x £1.50 per msg sent) help: 03333356970 PNP MEDIA - 2 STOP txt STOP
.......................................................................................................