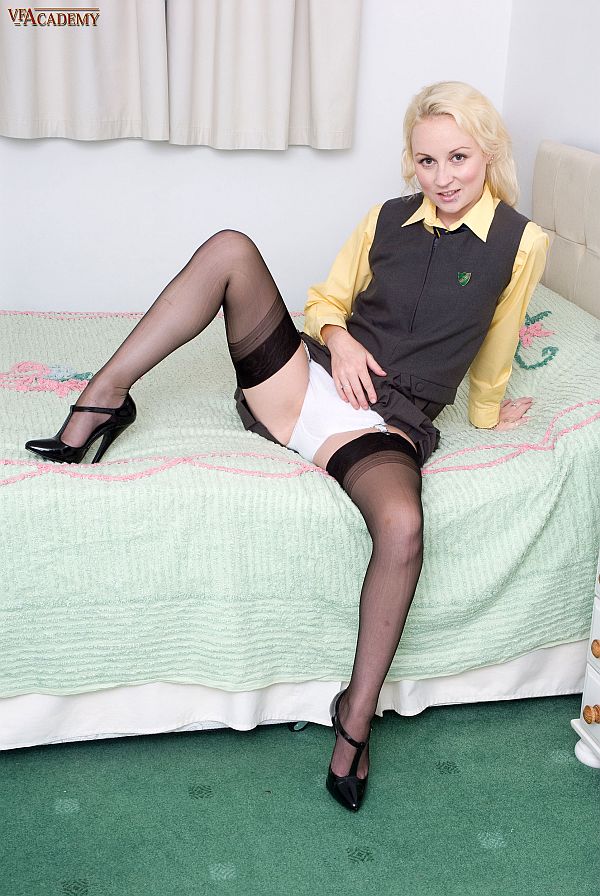 Kiana has been made a prefect of the academy, which gives her power over the other girls in her year. She's already excited at the prospect of getting them to perform tasks which they must do in order to keep on her good side, or else they will be in trouble.
Laying on her bed she fantasizes about all the things naughty things she has planned for the girls that she fancies and would like to have some sexy fun in her bedroom.
Kiana opens her legs to masturbate, revealing the tops of her black nylon stockings under her skirt and then begins to rub her pussy through the front of her white cotton panties.
Imagining the girls rubbing her cunt through her white cotton knickers makes her hot and excited, so she strips off her uniform to uncover a powder blue, lacy bra underneath her shirt. Pulling down the cups of her bra, she plays with the soft mounds of her petite breasts and lays back to tease her pussy through the tight cotton of her panties.
Laying on the bed with her stockinged legs open, she pulls the crotch of her knickers to one side, then circles her fingers over her clitoris and slides them over the juicy lips of her moist, pink pussy.
Kiana gets onto her knees and leans forward on one arm, then reaching behind she hooks her thumb under the elastic waistband of her panties. Slowly tugging her panties over her pert bum cheeks, she pulls them down until they are stretched around her seamed, stockinged thighs and fingers her cunt.
Kiana rolls onto her back and pulls her knickers down to her ankles, then bounces her arse on the bed as she fingers the lips of her pouting pussy and frigs herself off to climax.
Get our superb Vintage Flash newsletter each week - all the latest model info, updates, set preview pics and more!