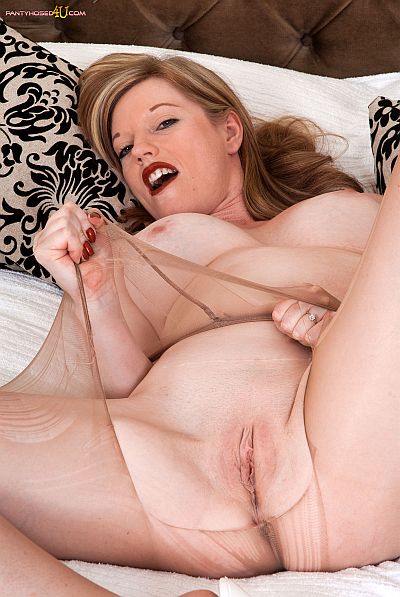 Holly leaned over in her micro dress, which barely covered her thighs, and slowly drew her hands from her ankles up her sexy long legs in shiny, sheer nylon pantyhose.
'I love the feel, the touch and the smoothness of my pantyhose, which make my legs look long and sumptuous', she said, caressing the length of her legs and enjoying the feel of her silky hose encasing her hips and thighs.
Bending right over she presented me with her fabulous arse sheathed in tight sheer pantyhose, causing a sheen of light to cross the shiny surface of her tights as she swayed her hips.
Turning around, she slipped her hand down the front panel of her hose and ran her middle finger up the wet slit of her pussy, making the nylon stretch around the back of her hand and pushing it outwards as she played with her cunt behind the nylon screen.
Holly then lay on the bed with one leg crossed over the other so her pantyhosed ass and naked pussy were in full view. 'I love to run my fingers and my nails up and down my pantyhose, because the sensation makes my pussy tingle,' Holy said, dragging her fingers over her nyloned buttocks and thighs, then rubbing her pussy through the sheer nylon that fit so snugly around her crotch.
Laying back with legs open, she pushed both of her hands down the front of her pantyhose and lifted the tight, nylon screen outwards with the palms of her hands. Holly then spread the lips of her hot, pink pussy with her fingers, clearly visible through the sheer nylon, making the pantyhose seam run right through the middle of her parted lips and over her throbbing clitoris.
Holly masturbated through her hose, gradually ripping them to shreds and causing them to ladder in many directions over her ass, cunt and legs. Then kneeling with her ass exposed through the torn rear of her destroyed tights, she fingered the hot, juicy lips of her cunt to bring herself to a sensational climax.
Get our superb Vintage Flash newsletter each week - all the latest model info, updates, set preview pics and more!