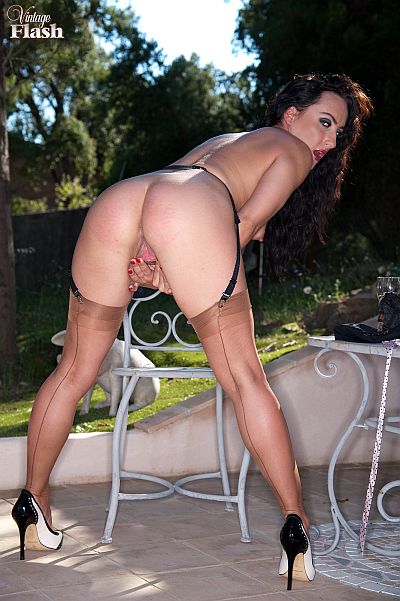 Chloe likes show off her fabulous legs and put on a sexy striptease, especially when she's horny and had a glass or two of vino; as was the case when this video was shoot while she was on holiday in the south of France.
'I've got some nice, Cuban heeled, seamed nylon stockings on, just for you!' Chloe said, enjoying a bit of an alfresco tease as she sat in the garden and caressed her shapely legs in stockings and heels.
Bending over so that her pencil skirt pulled tight around her buttocks, she wiggled her sexy ass and drew attention to her ankles and the seam of her stockings running in a line from her heels and up the back of her legs.
Removing her top and skirt revealed she was wearing a matching black bra and garter-belt, with black sheer nylon panties that were a snug fit around the cheeks of her bum. The long straps of her suspenders wrapped themselves around her thighs, and tugged on the tops of her nylons as she leaned over and moved her pantied ass in a very enticing manner.
Chloe teasingly pulled her panties down until they were tightly stretched around her seamed stockinged legs, then reached behind to open the lips of her pussy with her fingers and reveal the pink.
Chloe then sat in the chair and spreading her legs she opened the lips of her juicy cunt, which was framed by the webbing of her suspenders stretching to her stocking tops. She then teased the hot flesh of her erect clitoris with circular motions of her middle finger as she masturbated to an orgasmic climax.
Get our superb Vintage Flash newsletter each week - all the latest model info, updates, set preview pics and more!