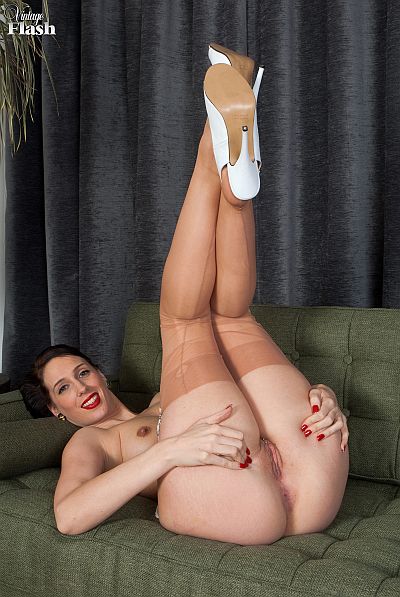 Tammy stokes the ankle of her stockinged leg and draws attention to her very sexy white sling-back shoes and the natural skin colored fully-fashioned nylon stockings she is wearing.
'Do you know how sexy I feel when I wear these stockings, knowing that you are at home watching me now, being a very naughty boy.' Tammy says, as she reclines on the couch and runs her hands up and down her long shapely legs in silky soft seamed nylons.
Tammy slips out of her tight pencil skirt and bends over to show off her pert buttocks sheathed in white sheer nylon panties.
'Look at that gorgeous seam running all the way up, right to the top,' she says, tracing her finger up the back of her seamed stockinged leg to where it meets the suspender attached to the nylon welt. 'They feel so sexy on my legs and make me feel really naughty.'
Tammy wiggles her pantied ass, then pulls her nylon knickers over the cheeks of her ass and slowly rolls them down her stockinged legs to stand with them stretched between her ankles.
Stepping out of her panties she discards them and laying back on the sofa she detaches the suspenders of one of her stockings. Rolling it down her leg she removes the stocking, then stuffing it up her pink gaping cunt she masturbates and orgasms by rubbing the nylon against her hot throbbing clitoris.
Get our superb Vintage Flash newsletter each week - all the latest model info, updates, set preview pics and more!