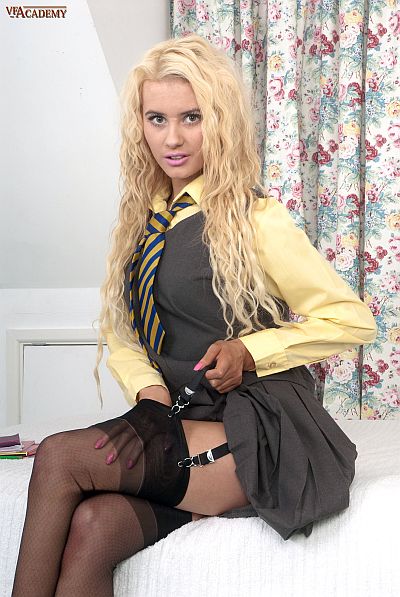 Brook has heard all about our horny janitor being such a pervert from all the other girls at the academy, so when he appears at the door of her room she tells him to get in quick!
His timing was perfect, as she tells him she is feeling so horny. But if he wants to see what she's wearing under her pleated dress, he's just going to have to get his cock out!
'I've see the way you watch us girls in their rooms, wanking over us, you're such a dirty boy,' Brook says, sitting down on the bed and letting him see up her dress at the tops of her nylon stockings. 'You're just so pervy… but it's OK, I won't tell anyone.'
Brook demands that he get his cock out and show it to her. Then lifting up her dress, she shows him the array of her six strap suspender belt and the tops of her stockings framing her pantie crotch.
'I get so turned on, knowing that a dirty little pervert like you is watching me,' Brook says, as she begins to strip out of her uniform to show off everything to our lucky janitor.
Now Brook may laugh at his small dick, but she has a lot of fun encouraging him to jerk-off his stiff penis while she brazenly masturbates on the bed in her nylon stockings and suspenders.
Get our superb Vintage Flash newsletter each week - all the latest model info, updates, set preview pics and more!