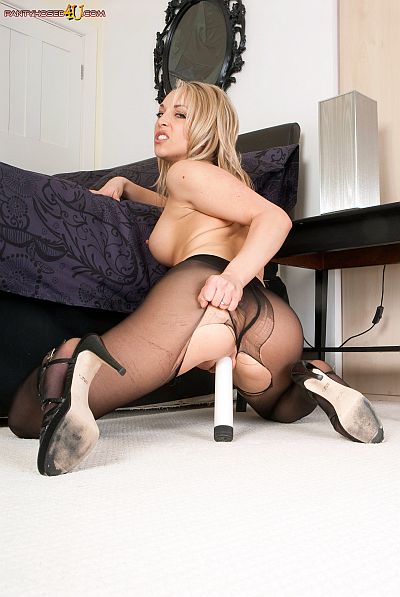 Jessica dressed up in her short skirt, pantyhose and heels ready to go out for the evening; but her friend called to cancel, so she's decided to stay in a give us a striptease.
'I Love wearing no knickers when I go out, it feels very naughty,' she giggles saucily, then bends over to give us a view of the cheeks of her pert ass encased in delicious black pantyhose.
'So as it's just us here, how about if I do a striptease and play with myself,' she smiles invitingly, running her hands over her hot body in her sexy mini-dress and sheer to waist black nylon pantyhose.
Jessica begins her striptease, moving very sexily as she slides her dress down the length of her slender pantyhosed legs to the floor.
'It makes me feel really horny wearing these against my skin,' she says, enjoying the sensation of her shiny tights clinging to her legs as she rubs her pussy through the nyloned crotch.
Jessica then grabs the waistband of her hose and pulls the front upwards until it forms a tight cameltoe between the lips of her vagina. She then pushes her hands down the front of her tights and inserts her fingers deep in her sticky, moist cunt.
Laying back she rips open the nylon gusset, tearing at the laddered nylon to get at her hot, pink cunt which she pulls open ready for some cock.
Jessica then squats of the floor with her legs apart and slides a huge 12 inch vibrator between the lips of her juicy pussy. Using her fingers to massage her erect clitoris, she stuffs the huge vibrator up her throbbing cunt and fucks herself with it to reach an intense orgasmic climax.
Get our superb Vintage Flash newsletter each week - all the latest model info, updates, set preview pics and more!