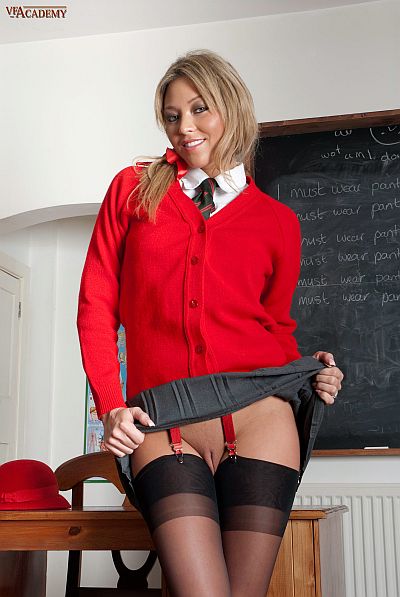 In trouble for not wearing any panties under her skirt, which is in breach one of the strict rules of the academy, Natalia was immediately sent to stay in detention for her misdemeanor.
Our horny janitor caught up with Natalia, and even though she knew he had something of a reputation with the girls, she did not not mind his presence in the least.
Natalia told him she thought it unfair she should be punished for wearing no knickers. After all the length of her pleated skirt was long enough, so no-one would see she was sans panties. She admitted to enjoying the sensation of a cool air circulating around her bare pussy under her skirt, but rules are rules and so she must be punished.
In fact the thrill of not wearing any panties made Natalia feel very naughty, and she quickly lifted up her skirt to show the janitor. Sure enough she was knickerless,  and the sight of her naked pussy framed by her red suspenders and the tops of her nylon stockings was something to behold.
'Well, as you know I'm not wearing any panties, I guess you'll want to have a proper look,' she laughed, climbing onto the desk and sitting with her legs open; giving him an upskirt view of her shaved haven and the tops of her nylon stockings. 'I just guess I'm naughty Natalia, aren't I?'
Stripping out of her restrictive uniform to get more comfortable, Natalia played with her supple breasts, caressing the soft brown aureoles and tweaking the perky nipples between her nimble fingers.
Then leaning against on the edge of the desk with her skirt hiked around her waist, Natalia's fingers slotted right up her moist cunt and made slapping sounds as she frigged herself off  to an intense orgasm.
Get our superb Vintage Flash newsletter each week - all the latest model info, updates, set preview pics and more!