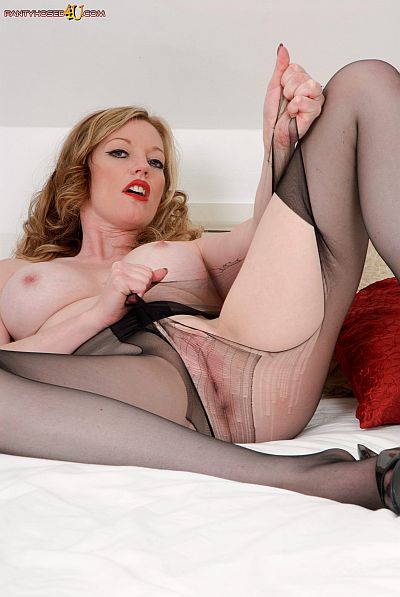 Holly looked very glamorous in her shimmering red dress, so short it barley reached the tops of her thighs and gave saucy glimpses of the cheeks of her ass encased in fine black pantyhose.
Holly's dress adhered like a second skin to the curves of her shapely hips and breasts, her long tapering legs looking so elegant in their sheath of sheer nylon hose as she paraded before me in the bedroom.
'Nice and clingy, fitting so well over this hot ass of mine', Holly said of her pantyhose, kneeling on the bed to give me a better view of her curvy ass; pushing it upwards to expose her naked pussy which was tantalizingly visible through the sheer nylon crotch.
'Look how sheer they are, except for this strip covering a very naughty area, which is already warm in there,' she said, moving her fingers over the area of her nyloned crotch.
Holly slowly teased and tempted me with glimpses of her sheer nylon covered naughtiness, wantonly displaying herself in several lewd positions for my enjoyment.
As she slipped her hand drown the front panel to massage the pink lips her moist labia, I moved in close to watch her fingers massage her juicy cunt.
Then spreading her legs open, she tore into the front of her pantyhose with sharp fingernails, laddering her tights and rending a hole through which she could get at her hot throbbing pussy.
Reaching for her sex toy the hot bitch openly masturbated in her torn and tortured sheer nylon hose, sliding the vibrator up her cock hungry fuck hole to achieve a rampant orgasm.
Get our superb Vintage Flash newsletter each week - all the latest model info, updates, set preview pics and more!