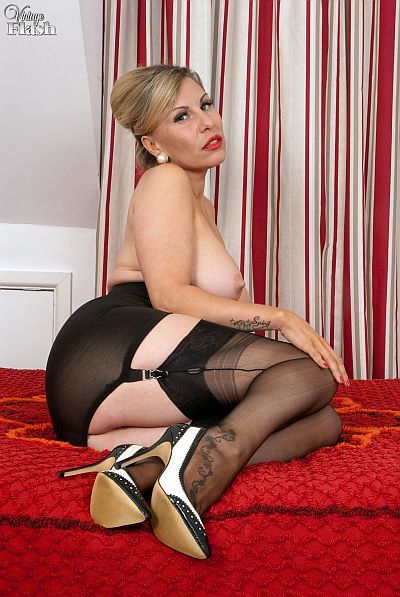 Saffy is back from a coffee morning with her conservative lady friends, who she tells us, looked shocked at the see-through blouse she was wearing, which clearly showed the outlines of her black bra underneath.
Even though Saffy always dresses smartly in expensive clothes, stockings and heels, her friends still regard her as is a bit of a slutty dresser. Though Saffy really doesn't mind if they disapprove of her racy dress sense; in fact she enjoys provoking them at every opportunity.
'If only they could see some of the things I get up to when I am at home,' Saffy says, pulling back the hem of her skirt to show off her stocking tops, and running her hand up the length of her sexy long legs. 'But then I enjoy being a slut,' she admits, 'and I especially enjoy being a slut for you guys!'
Yes, Saffy's posh friends would be totally shocked if they knew how she acts like a dirty, lascivious whore in the videos she makes.
Beginning her striptease, Saffy unbuttons her tight fitting blouse to reveal the sexy black bra she is wearing, then unzips her skirt and lets it fall to the floor.
Standing in her heels she poses, looking fabulous in a figure hugging black girdle, metal suspender clasps tugging at the tops of her seamed black nylon stockings.
'I just love the feel of fully-fashioned nylon stockings clinging to my legs and thighs,' she says, bending over to give a rear view of her girdled ass as she runs her hand up the sexy back-seam of her nylons.
Saffy opens her stockinged legs to expose her naked pussy as she lays back on the bed, then pulls the lips of her sex wide apart as she invites you to fuck her…
'I could be your posh whore,' she says invitingly, spreading her legs even wider, holding open her moist pink hole for you to enjoy watching as she masturbates.
Saffy talks real filthy as she massages her hot cunt, describing how she wants to be treated like a 'dirty fucking whore' who you can use for your own pleasure.
Getting off on her filthy talk, Saffy encourages you to fuck all her holes, then wank your cum over her face, tits, pussy and stockings, as she reaches her climax.
Saffy is ready to be 'Your Secret Whore' in tight girdle, nylon stockings and heels in her (128 photo set) and Hi-Def video at Vintage Flash.
Get our superb Vintage Flash newsletter each week - all the latest model info, updates, set preview pics and more!