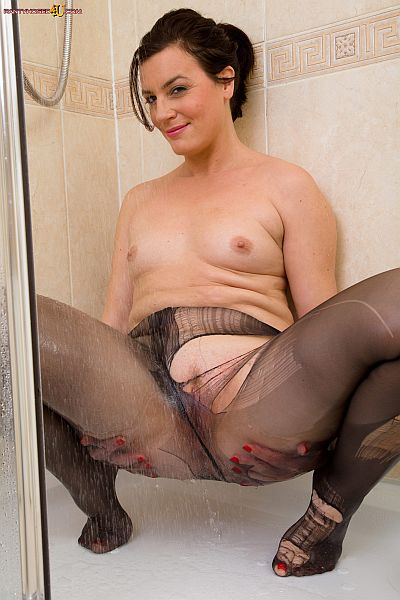 Sofia decides to take a shower in her sheer black pantyhose as she loves the sensation of clingy wet nylon against her legs, pussy and ass.
Standing in the shower, Sofia expresses pleasure as she feels warm water cascade over her naked breasts, and run down her body to soak into the nylon material of her pantyhose.
Sofia pulls at the waistband of her pantyhose and stretches it up to her breasts, enjoying the sensation slippery wet nylon against her bare flesh. Her pantyhose are so stretchy when wet, she demonstrates how she is able to fold her arms right inside her hose and pulls them up tight.
Sofia uses her sharp fingernails to cause her pantyhose to ladder in several places, across her thighs, feet, pussy and ass. Then squatting down, she widens the nylon hole around her cunt, and tears open the rear of her tights to expose the wet, fleshly globes of her arse.
Sofia opens the lips of her pussy and rubs her pink wet clitty to make herself cum, then removes her pantyhose so she can stuff them up her gaping cunt.
See Sofia enjoy wet pantyhose games and wanking in the shower in this (152 image) photo set and video – 'I Like It Wet!'
Get our superb Vintage Flash newsletter each week - all the latest model info, updates, set preview pics and more!