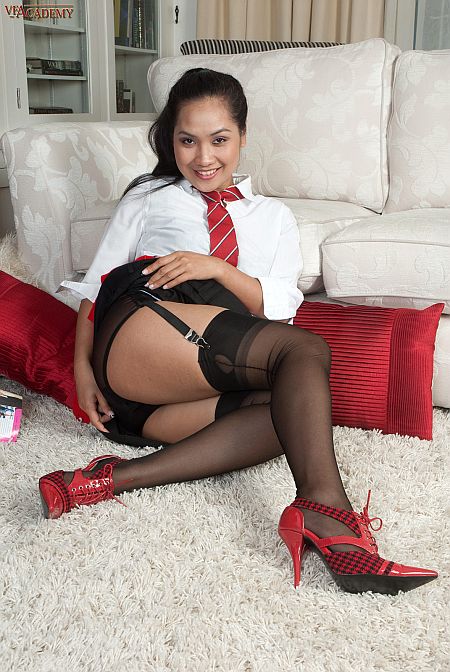 Relaxing by the hearth, Amy gets a surprise when she catches you looking at her nylon stockings tops and suspenders, just showing under the hem of her school skirt.
Amy is such a naughty tease, she soon starts talking about how she'd like to put your cock between her stockinged legs and give you a blow job!
Encouraging you to take out your dick and show her how big and hard it is, Amy opens her legs to show you the black panties she is wearing.
'Come on show me your dick and I'll show you my pussy,' Amy says, as her hand massages her cunt through the damp crotch of her panties.
Removing her skirt, Amy then pleasures her pussy by buzzing a vibrator over the tight cotton front of her black knickers.
Pulling her knickers down so they are stretched between her ankles, Amy gets on her knees to give a view of her pussy and ass as she masturbates with her sex toy up her sweet pussy.
Then with her panties stuffed in her mouth, this little Asian slut teases her hard clitoris and reams her tight fuck hole with the vibrator to reach an intense orgasmic climax.
See Amy Latina masturbating in stockings and suspenders in this (152 image) photo set and video – 'You Caught Me!'
Get our superb Vintage Flash newsletter each week - all the latest model info, updates, set preview pics and more!