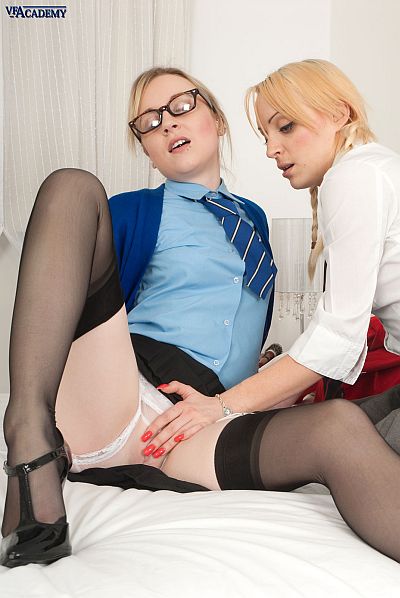 Our two geeks Kiana and Paige were together in their room, comparing their new uniforms, one blue and one red.
Both girls really admired what the other was wearing, and soon their interests turned to what they were wearing underneath!
Unbuttoning their blouses and stripping out of their pleated skirts, the girls soon find themselves playing with each others tits, and putting their hands down their stocking tops.
Paige's hot little tongue finds it's way to licking the crotch of Kiana's see-through nylon panties, before she strips them away and gives her friend's pussy a good licking.
Then Kiana returns the favour by going down on Paige's pussy, licking the cream out of her gaping fuck hole as her friend orgasms on her tongue.
Having already cum once, both girls are ready for more, and getting into a sixty-nine position on the bed, they go on to satisfy each others' pussies with tongues and fingers.
Watch stocking lesbians Kiana and Paige get it on together in this (228 image) photo set and 22 minute video – 'Uniform Frolics' at VF Academy.
CLICK HERE TO GET THE FULL VIDEO OF KIANA & PAIGE  AT VF ACADEMY
Get our superb Vintage Flash newsletter each week - all the latest model info, updates, set preview pics and more!