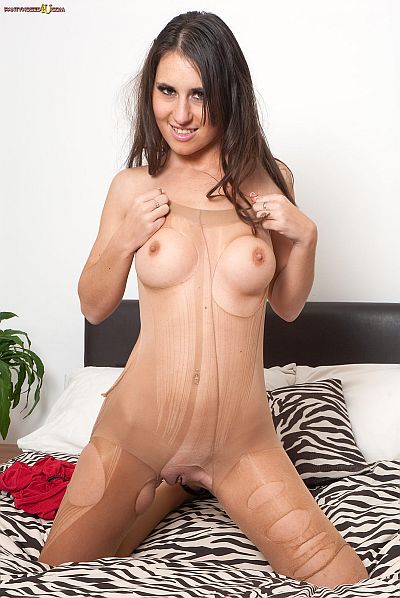 Jess wanted to show me her red micro mini dress, so tight and figure hugging, barely covering her boobs and the tops of her thighs.
She told me she puts this on when she's ready to go 'out on the pull', and always wears some pantyhose as they make her feel sexy, as well as making her legs look their best.
'I love wearing pantyhose, it's just the way these feel so nice and tight,' she said, lifting the hem of her dress and showing me her naked pussy through the nylon front panel. 'They're quite sexy too, don't you think?'
Jess turned and pulling up the dress, showed me her pantyhosed arse encased in stretchy nylon. 'I love running my hands up and down them, feeling how soft and silky they are.'
She moved onto the bed and kneeling gave me a perfect view of her juicy pussy through her pantyhose crotch, pulling the gusset nice and tight against her already moist cunt.
Jess, continued her nylon strip routine as I videoed her on the bed, pulling some nylon camel toe, with the seam of the gusset pulled tight into the rosy slit of her vagina.
Then ripping the complete ass out of her see through gusset gloss reinforced top pantyhose, Jess fingered her shaven pussy and frigged herself off!
See Jess West ripping her pantyhose to shreds in this (138 image) photo set and see her finger fucking her moist pussy in 'Ripping Yarns' at Pantyhosed4u.com.
DOWNLOAD THIS VIDEO OF JESS WEST WANKING IN RIPPED PANTYHOSE
Get our superb Vintage Flash newsletter each week - all the latest model info, updates, set preview pics and more!