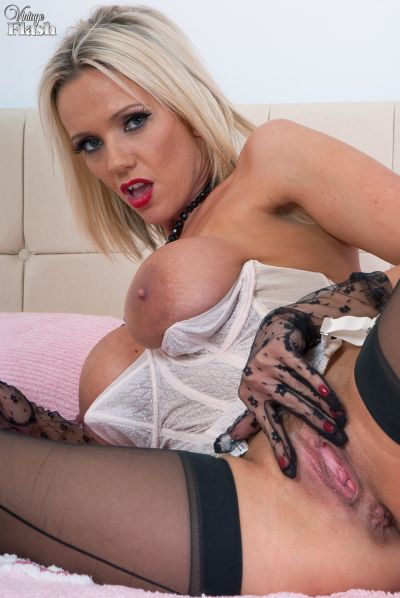 Lucy Zara is seductively prowling in the bedroom, looking very sexy in her vampy figure hugging dress, and she wants you to sit down bedside her so she can show you her stockings.
Lucy is determined to wank your throbbing cock between her the fingers of her black lacy gloves.
'I'd bet you'd love for me to play with you in them,' she asks as she rubs her nyloned fingers together and makes the material crackle. 'I could wank you off in nylon gloves, you'd love that wouldn't you?'
Lucy is keen to get started and swiftly strips off her dress down to her lace merry widow corset, black seamed stockings and 6 inch stiletto heels.
Sprawling on the bed Lucy uses her nylon gloved fingers to rub her clitoris and make herself even wetter between the legs. Then she teases her gaping pussy with her crystal dildo, before flinging those long sexy legs apart to frig herself to a shuddering orgasm.
See Lucy Zara wanking in her seamed stockings in this (121 image) photo set and full length movie 'Crystal and Lace' at Vintage Flash.
Get our superb Vintage Flash newsletter each week - all the latest model info, updates, set preview pics and more!