French milf Chloe strips off her classy outfit to play in her suspenders, brown RHT nylon stockings and stiletto heels. Watch Chloe spreading her hairy pussy and giving herself pleasure as she makes herself cum.

'You know what I'm wearing underneath my new skirt? RHT nylon stockings. Yes. Let me give you a little glimpse.' Chloe wiggled her hips and hiked up her tight fitting pencil skirt to reveal her white suspenders and brown nylon stockings. 'They were given to me by an American gentleman and I wear them especially for him. Aren't they nice?' she said, sliding her hand under the tops of her stockings and spreading her fingers over the soft, tanned flesh of her thigh.
'I can see that you bare getting horny already, even though I haven't shown you much yet,' she smiled with a sexy twinkle in her eyes. 'But I'm going to show you a bit more now.'
Chloe unbuttoned her soft, woollen cardigan and stripped it off, revealing a cream coloured lace bra. She knelt on the leather sofa and unzipped the skirt, pulling it down to uncover sheer nylon panties and garter-belt with long suspender-straps holding up her RHT nylons.
'Sexy underwear, what do you think? You like?' Chloe opened her legs and pulled aside the crotch of her panties to give a quick flash of her hairy pussy. 'I can see your cock is getting really hard, watching me, eh? Let me show you a bit more.'
Chloe slipped the straps of her bra down her arms and teasingly held it in place against her chest. Lowering the cups of the bra and stripping it away, she uplifted her beautifully tanned boobs in her hands and squeezed the erect brown nipples between her fingers.
'I know what you want to see now,' Chloe smiled naughtily, laying back and getting comfortable against the cushions, then slipping her panties from under her ass and down to her thighs. 'Oh, these beautiful knickers have to go,' she smiled naughtily, slipping the panties down her legs in their brown nylons and over her stiletto heels.
'Ah, look at that juicy, pink pussy,' Chloe said, hand between her thighs spreading her pussy wide open to show it glistening wetly with her juices. 'I bet you would like to lick it for me,' she grinned, her hips writhing against the sofa as she rubbed her hand against the succulent lips of her labia.
'I'm thinking about you now, wanking your cock for me, it's so big!' She closed her eyes, a dreamy look of pleasure on her face as she teased her clitoris with her fingers. 'Just look at that naughty finger,' she said, slipping a digit up her wet cunt and stirring it around her juicy hole. 'I imagine it's you in-between my legs now… Your cock, fucking my wet, juicy pussy.'
*********************************
See even more of French Chloe in her vintage lingerie and nylons videos at NHLP Central

Get our superb Vintage Flash newsletter each week - all the latest model info, updates, set preview pics and more!
NEW SERVICE FOR ALL SMART PHONE USING NYLONS LOVERS!
Text Nat here to get all her pics sent to your phone!
JUST TEXT 'WHITESEAMS' TO 69666
Phone fun day or night!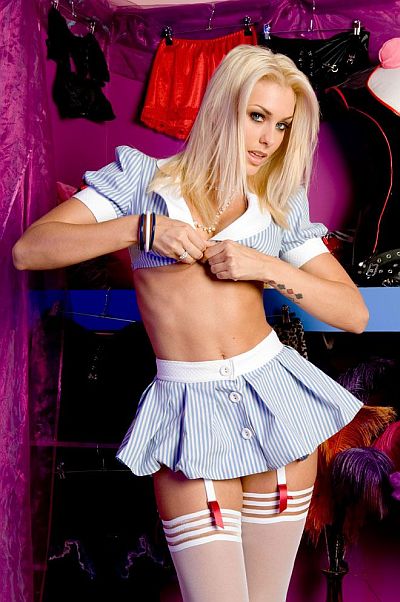 Terms & Conditions (Max 3x £1.50 per msg sent) help: 03333356970 PNP MEDIA - 2 STOP txt STOP
.......................................................................................................