Ella enjoyed her walk around town, flaunting her curves in a red and white polka dot dress, legs in grey fully-fashioned nylons and stiletto heels. Attracting a lot of male attention made her feel very horny, and by the time she arrived home she was eager to strip off and masturbate. Relaxing on the sofa in her lingerie, her stockinged legs spread wide open, she frigs her moist honey pot and makes herself cum.
'I've been out all day, walking around in my red dress that clings to all of my curves.' Ella sat on the chaise-longue, running her lace gloved hands over her body through the material of her polka dot dress. 'If only all the men I passed on the street knew what I was wearing underneath,' Ella smiled, her shapely legs poised in their grey nylon stockings and shiny stiletto heels. 'Would you like me to show you?'
Ella opened her legs to give a view of the fine hairs of her pussy, visible through the sheer nylon of her panties between her stockinged thighs.
'Did you get a flash of my red knickers?' she asked, having closed her legs to hide her panties from view. 'Oh, I'm really teasing, aren't I?' She slowly drew back the hem of the dress revealing red suspenders and metal clasps, then extended her legs and adjusted the tops of her stockings.
Ella stood, unzipped the dress and stripped it off and posed in her red lingerie, her gloved hands caressing her entire body.
'My pretty little titties, sitting in my quarter-cup bra, look perfect, don't they?' Ella smiled, lifting her boobs and bouncing them inside her bra, teasing her erect brown nipples with her gloved fingers. 'You love it, don't you? I bet you'd love to run your hands all over my bum and feel it through the soft nylon of my panties.' She turned and pushed out her arse, rubbing her hands over her rounded buttocks, sheathed in the red nylon of her sheer panties.
'It's time to get these panties off.' Ella slipped her fingers inside the waist of her panties and slowly teased them over her arse. Bending, she slid the panties down her legs in their seamed nylon stockings, leaving them loosely rolled up around her ankles and stiletto heels.
Ella stripped the panties off and knelt on the couch, both hands stroking the cheeks of her big, brown bum. She picked up the panties and rubbed them against her stockinged legs, sliding them all the way up to her thighs and over her hairy cunt. Then lifting the panties up to her face, she sniffed the crotch and inhaled the musky perfume of her hot pussy. 'They're so wet,' she gave a naughty grin, 'all nice and sticky.'
*********************************
See even more hot babes stripping in lingerie, stockings and pantyhose at NHLP Central

Get our superb Vintage Flash newsletter each week - all the latest model info, updates, set preview pics and more!
NEW SERVICE FOR ALL SMART PHONE USING NYLONS LOVERS!
Text Nat here to get all her pics sent to your phone!
JUST TEXT 'WHITESEAMS' TO 69666
Phone fun day or night!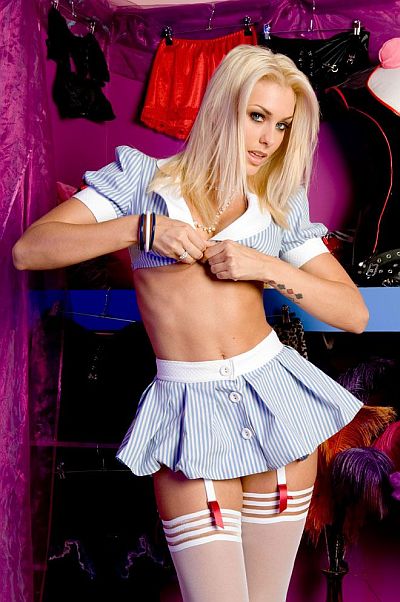 Terms & Conditions (Max 3x £1.50 per msg sent) help: 03333356970 PNP MEDIA - 2 STOP txt STOP
.......................................................................................................