Sapphire strips off her vintage dress and teases on the leather sofa, her long legs looking so enchanting in sheer nylon pantyhose. In her excitement, she rips open her pantyhose and pleasures her pussy with her favourite sex toy.
'I can see you looking at my long legs.' Sapphire sat on the leather sofa, leaning forward and caressing her legs in their black pantyhose. 'Do you know what I want you to do? I want you to take your cock and start stroking it up and down.' She smiled pleasurably, leaning back and rubbing her pantyhosed legs together in a way that was both sensual and seductive.
'Take that dick and push it against my legs, so you can feel it throbbing against my pantyhose.' Sapphire slid her hand between her thighs and pressed her slender legs together. 'Imagine me squeezing your cock between my thighs and rubbing them up and down.' She smiled and licked her lips, luxuriating in the sensation of one nyloned leg sliding against the other.
'I chose these pantyhose especially for you, naughty boy, because I want you to see everything.' Sapphire shifted position and lay back with her legs open, giving a view right up her dress. 'Get on your knees and lick me through my pantyhose.' She beckoned with her finger to come closer while her other hand massaged her pussy through the gusset of her tights. 'I want to feel your wet tongue pushing the nylon against my clit, tasting my sweet pussy though the sheer hose.' She suggested excitedly, rubbing the nylon of the pantyhose crotch against the mound of her shaved cunt.
Sapphire reached behind to untie the straps of her dress, and pulled down the front to expose her ample boobs. 'Reach out and grab those tits while you tongue my pussy and I grind it against your face.' She sat up and squeezed her tits together, while rotating her hot pantyhosed ass against the squeaky leather of the sofa seat.
She turned to kneel and slowly slid the dress down her lower back and over the cheeks of her shapely ass. 'Imagine me pressing my ass against your face, I bet you'd like that, wouldn't you?' She spread her knees wide and pushed up her read end; expressing herself loudly as she twerked her shapely ass encased in it's layer of tight fitting nylon.
Sapphire lay back and pushed her hand down the front of her hose, curling her fingers and dragging her nails across the taut nylon screen. Her fingers broke through the gusset and pulled the nylon apart, widening a hole so it framed the mound of her delicious cunt. She gasped, her fingers pressed hard against her throbbing clitoris and slipping between the succulent pink lips of her cunt, oozing with her flowing juices.
*********************************
Check out Sapphire Blue in her sexy lingerie and pantyhose videos at NHLP Central

Get our superb Vintage Flash newsletter each week - all the latest model info, updates, set preview pics and more!
NEW SERVICE FOR ALL SMART PHONE USING NYLONS LOVERS!
Text Nat here to get all her pics sent to your phone!
JUST TEXT 'WHITESEAMS' TO 69666
Phone fun day or night!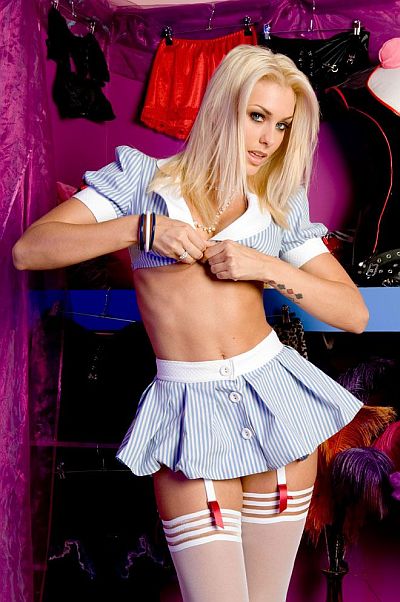 Terms & Conditions (Max 3x £1.50 per msg sent) help: 03333356970 PNP MEDIA - 2 STOP txt STOP
.......................................................................................................