Kate Anne enjoys having a hairy bush, but like most modern young ladies, she likes to shave it off occasionally and feel how smooth her bald pussy feels inside her panties.
Dressed up for you again in retro-style suspenders and stockings, we convinced her to do her personal shaving right there in front of the camera.  Watch Kate shaving her bits in her latest video…
Kate stripped off her dress, revealing a white bra and lacy garter-belt, the suspenders framing the shadow of her pubic bush, visible through the front of her sheer nylon panties. Bending slightly forward, she began to strip off her panties and they snagged on the metal clasps of her suspenders as she rolled them down her stockinged legs.
Sitting in the chair, she took off her bra and opened her legs to reveal the trim hairs surrounding the lips of her pussy, framed by the webbing of her garter-belt attached to the tops of her tan, nylon stockings. Slipping off her open-toe heels, she stepped into the bath tub and sat on the edge with her legs opened. Then taking her electric razor, she carefully shaved off the trim hairs which covered the mound of her lovely minge.
Having shaved her pubes, Kate sat once more in the chair and spreading her legs, she rubbed the flesh of her bare cunt, which now looked so smooth and naked. She knelt with one leg on the chair and the other atop of the dresser to present her rear end, then pulled her buttocks apart to expose her freshly shaved cunt. Her multi-strap suspenders stretched around the cheeks of her arse and pulled taut on her stocking tops, as she reached fingered the juice lips of her moist pussy and masturbated in her lingerie and seamed nylon stockings.
Get our superb Vintage Flash newsletter each week - all the latest model info, updates, set preview pics and more!
NEW SERVICE FOR ALL SMART PHONE USING NYLONS LOVERS!
Text Nat here to get all her pics sent to your phone!
JUST TEXT 'WHITESEAMS' TO 69666
Phone fun day or night!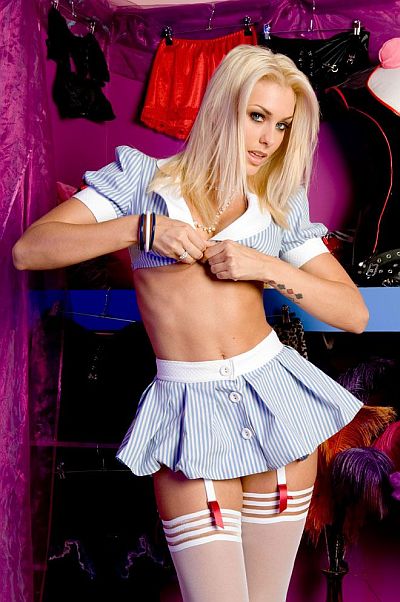 Terms & Conditions (Max 3x £1.50 per msg sent) help: 03333356970 PNP MEDIA - 2 STOP txt STOP
.......................................................................................................