If you like leggy blondes Rebecca hits the spot, as she get down and dirty on the bed in her ripped nylon pantyhose…
Rebecca lay back on the bed and brushed her legs against each other in their black pantyhose, making them whisper with the sound of nylon on nylon. She then turned over to lay on her front and folded her legs at the knees so they swished together, drawing attention to her feet in their sexy, stiletto heels.
Rebecca stripped off her stretchy lace top to uncover her petite breasts, then knelt and lifted the flimsy material of her skirt to reveal she was not wearing any panties under her pantyhose. She reached behind and caressed her buttocks sheathed in their layer of black hosiery, then slid her fingers between her thighs and explored her hot pussy through the tight, clingy nylon of her pantyhose crotch.
Rebecca took off her skirt and laying back, she extended one of her slender legs upward, exposing the semi-sheer oval of her pantyhose gusset, stretched tight against her pussy. The moist juices of her gaping pink hole glistened though the sheer nylon of her pantyhose crotch and as she drew her fingertips down her inner thighs, her fingernails caused the delicate nylon to ladder.
Rebecca continued to tear and rip her hose apart, seeing as they were now ruined, pulling on the tattered strands of broken nylon so it ran in ladders all down her slender legs. Ripping open the side the reinforced gusset, she exposed the pink flesh of her juicy pussy, then slid a vibrator up her hot little cunt and wanked herself off to climax in her ripped pantyhose nylons.
Get our superb Vintage Flash newsletter each week - all the latest model info, updates, set preview pics and more!
NEW SERVICE FOR ALL SMART PHONE USING NYLONS LOVERS!
Text Nat here to get all her pics sent to your phone!
JUST TEXT 'WHITESEAMS' TO 69666
Phone fun day or night!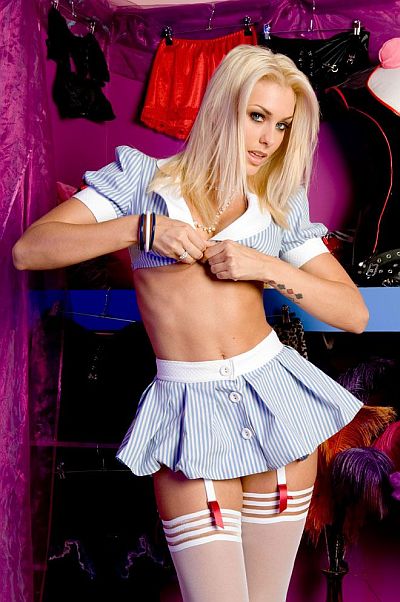 Terms & Conditions (Max 3x £1.50 per msg sent) help: 03333356970 PNP MEDIA - 2 STOP txt STOP
.......................................................................................................