'I'm feeling so sexy in my pantyhose, they feel so silky, so soft, so tight,' Aston said, as she sprawled on the bed in her black, wet-look dress and sheer nylon hose.
Kneeling. she gave a view of her pantyhose ass and ran her hands over her buttocks sheathed in their layer of black, sheer nylon. Then rolled over onto her back and opened her legs to show the slit of her pussy behind the sheer nylon oval of her pantyhose gusset.
Aston lay on her front with her black pantyhose crotch in view and lifting her legs, she folded them back slightly to show off her sexy feet in their black, strap-on heels. Then stripping off her dress, she knelt on the bed and stretched the waist of her pantyhose over her all natural tits with their large, thick nipples.
Laying on her side she displayed her legs and dragged her painted fingernails up and over the surface of her black nylon pantyhose, then pushed her hand down the front of her tights and began to tear at the nylon around her inner thighs and made it run in ladders.
Having ripped her nylons either side of the crotch, she grasped the remaining skein of gusset and pulled it tight against the lips of her moist cunt. 'That's what you wanted to see, wasn't it?' Aston said, as she ripped out the seat of her pantyhose and exposed the flesh of her fabulous arse and juicy cunt.
'Come on then, toss that cock nice and hard for me and shoot your load all over my ass and pussy!' Aston said encouragingly, as she twerked her ass and pulled at the spidery webs of broken nylon that stretched over her bouncing buttocks. 'That's it cum over that ass and pussy and make a big, sticky mess!'
Get our superb Vintage Flash newsletter each week - all the latest model info, updates, set preview pics and more!
NEW SERVICE FOR ALL SMART PHONE USING NYLONS LOVERS!
Text Nat here to get all her pics sent to your phone!
JUST TEXT 'WHITESEAMS' TO 69666
Phone fun day or night!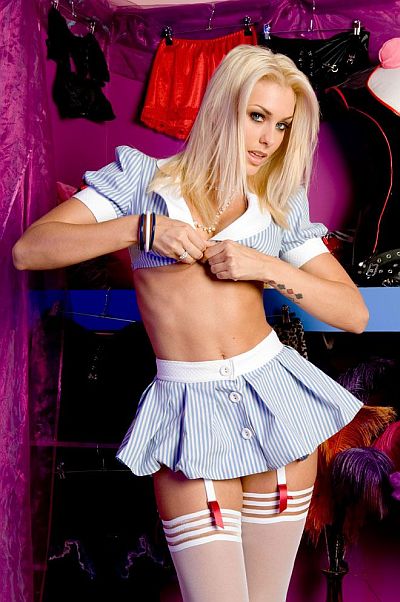 Terms & Conditions (Max 3x £1.50 per msg sent) help: 03333356970 PNP MEDIA - 2 STOP txt STOP
.......................................................................................................